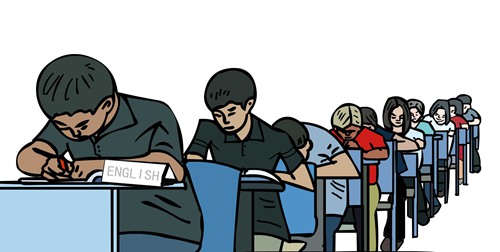 (LI SHIGONG)
A report that the Education Ministry is considering excluding English from the required subjects for the national college entrance examination, also known as gaokao, has recently attracted much attention from the public.
In December 2013, the ministry released a draft of gaokao reform plans. In the document, it was revealed that English would not be included in the future. Instead, students can take English tests organized by social organizations. Those tests can now be taken more than once and only the highest score will be cited as a reference for college admissions. The reform will be piloted in some provinces beginning in 2014 and, after being evaluated, it is planned to be expanded upon in 2017. By 2020, a new testing and recruiting system will be formed and promoted nationwide. All of these reforms and decisions together seem to downgrade the role of English in the education system.
The reform has triggered debate among the public as they watch the changes being pushed forward. The following are excerpts of opinions:
Cheng Fangping (www.ifeng.com): From the start of 2014, topics on gaokao reform have been a source of contention, particularly the reforms concerning English. There are enough reasons for English to be excluded from gaokao subject list. China's current gaokao has three important subjects: Chinese, mathematics and English, but in many other countries, the required test subjects for college entrance examination are usually the national language, math and science.
The method of teaching English in China has long been queried. From kindergarten to college, and even those studying for a Ph.D degree, students are required to learn English. The English test level is also often linked to one's career progression. However, despite the overemphasis on English and the year of endless efforts for language learning, many Chinese are still not good at using the language.
However, in many other countries, citizens are not required to learn a foreign language, but translation services are well developed in various sectors. Adding English to gaokao test subject list has already left a negative impact. For example, some students are better at English than at Chinese, though what is tested is very different. Worse still, some students begin to lose confidence in themselves or even lose interest in studying just because they do not do well in English.
Even in countries where English is the official language, English capability is not a decisive factor that can affect one's whole life. In China, English is not the official language and is not so often used, there is no need for this overemphasis on English.