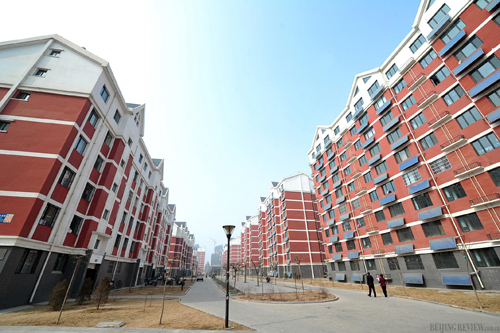 HAVING A HOME: A residential community specially built for a low-income population in Yinchuan, capital of northwest China's Ningxia Hui Autonomous Region (XINHUA)
On May 26, the Information Office of the State Council released a report titled Progress in China's Human Rights in 2013. The report expounded on China's achievements in various areas of human rights over the last year. On the same day, Xinhua News Agency published an article by Chang Jian, a professor at Nankai University. Excerpts of the article follow:
Economic and social rights mainly concern the entitlement to be allowed to work, to a basic living standard, to social security, to health care and to education, among the fulfillment of other basic needs. According to the definition of the right to food as described under the UN Committee on Economic Social and Cultural Rights General Comment No.12 (1999), China has managed to secure these rights through the utilization of three concepts: respect, protection and realization. Respect means that citizens' right to choice is not interfered with; protection means that preventive and punitive measures exist guarding against these rights being violated; realization means that these rights requirements are fulfilled.
Since the founding of the People's Republic of China (PRC), the Chinese Government has undergone three stages in promoting and ensuring economic and social rights: the first period ranges from the founding of the PRC to the eve of its reform and opening up. This period featured the government's proactive promotion of economic and social rights. Given the low economic development level at the time, the Chinese Government directly produced, supplied and distributed materials and services so that citizens' economic and social rights could be ensured.
The second period began at the adoption of reform and opening-up policy in the late 1970s, and involved the government stressing the respecting of individuals' free choices. Keeping pace with the establishment and development of China's socialist market economy, the state showed more respect to citizens' individual will in their economic and social rights, granting them more choice in how to realize their rights. For example, the state respected individuals' free choice of work, medical institutions and commercial insurance items.
Recent years have seen China develop rapidly. The old methods for guaranteeing citizens' economic and social rights are no longer meeting the current demands of the people. The ever-growing gap in income distribution also shows that market rule alone is unable to uniformly meet people's demand for economic and social rights.
Disadvantaged groups are urgently asking for better reinforcement of their economic and social rights. In response to this new situation, the state has adopted a new strategy for ensuring these rights. While fully respecting citizens' rights to make choices, more measures are being taken to ensure full and equal realization of their economic and social rights. The utilization of more human and financial resources and materials makes it possible for the groups in the most urgent need of security to have their rights insured. The following changes show this process clearly:
In order to change the current situation where the country's economic growth outpaces the growth in the public's income, the state has proposed to realize a synchronized growth of the two and to narrow the income gap between rural and urban residents. In 2013, the actual growth rate of per-capita disposable income (accounting for inflation) is 1 percentage point higher than per-capita GDP (adjusting for natural population growth). Meanwhile, the per capita income growth rate for rural population is 2.3 percentage points higher than that for urban residents.
In terms of ensuring the right to work, the government's strategy gives priority to employment. Industries and businesses that offer a large number of job opportunities are encouraged by the government. The urban unemployment rate remained around 4 percent for many years. The state has consistently worked to remove policy hurdles that restrict rural laborers' finding gainful employment. The lowest wage standard has been raised in many places from 2011 to 2013, and the growth rate is much higher than the price increase index across the same period. Amendment VIII to the Criminal Law has laid out in detail the crime of refusing to pay labor remuneration. In the construction industry, where wages disputes are more frequent, a wage guarantee system has been implemented in many areas across the country.
In order to secure the right to education, the state's fiscal inputs for rural compulsory education have continued to rise at an annual rate of 20 percent for many years. The government has made it clear that the governments of rural areas and public full-time middle and primary schools, which receive the children of migrant workers, should take responsibility for the education of the migrant population. When public schools are unable to accommodate all migrant students, the students will be able to attend private schools thanks to arrangements by the local government. The Chinese Government has also implemented the program to improve students' nutrition during their compulsory education. All rural students and students engaged in agricultural programs, as well as students from economically impaired families, will enjoy free education at secondary vocational schools.
To secure people's basic living standards, the Central Government has implemented housing programs in urban areas and speeded up the construction of these homes. The rebuilding of shanty areas in cities has also been accelerated. The housing security system, which used to only cover families with an urban hukou, or household registration permit, for that city, has been expanded to all permanent residents. By the end of 2013, more than 36 million urban households were given residences to move into.
In terms of the right to social security, the state has set up an endowment system that covers both urban and rural areas. Since 2010, the state has adjusted the basic pension for retirees four times. In tandem, the network of workers' basic medical insurance, urban residents' basic medical insurance and rural cooperative medical system have also continued to expand.
In terms of health and medical rights, more than 700 county-level public hospitals have carried out pilot reforms to eradicate subsidizing of their medical services with profits from drug sales. Grassroots medical institutions have all been provided with basic medicine, which is at a "zero-profit" price, covering more than 80 percent of China's village health posts. Many big hospitals in China's cities have set up partner assistance relationships with rural hospitals.
All of these advances demonstrate that China has entered a new era in respecting, protecting and realizing its people's economic and social rights. The state is not only respecting people's right to choose the method by which they realize these rights, but also prevent and punish behaviors that deny citizens these rights. The government is also working to provide material and systematic guarantees to help citizens realize their economic and social rights. This trend of development will help to better protect citizens' economic and social rights in a fairer and more thorough manner.