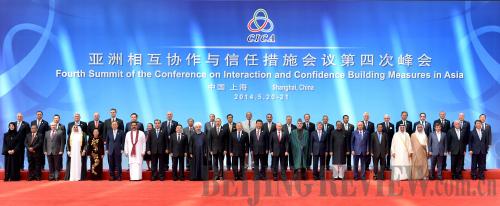 SECURITY MEETING: World leaders and representatives attending the Fourth Summit of the Conference on Interaction and Confidence Building Measures in Asia pose for a group photo in Shanghai on May 21 (MA ZHANCHENG)
Asia appears to be ushering in the first real security platform involving nearly the whole region. Although the Conference on Interaction and Confidence Building Measures in Asia (CICA) has been in existence for more than 20 years, its fourth summit recently held in Shanghai attracted extraordinary attention worldwide with the unprecedented participation of leaders and officials from 46 countries and international organizations.
At the summit, Chinese President Xi Jinping expounded a new concept of security in Asia, proposing to advocate common, comprehensive, cooperative and sustainable security. Xi stated that "security problems in Asia should be solved by Asians themselves who are able to achieve regional peace and stability through cooperation."
Observers said the latest summit reminds the world that Asia is not only a dynamic continent with thriving economic growth but also rife with simmering tensions, demanding regional security cooperation architecture for which CICA can act as an effective platform. They added that China's recent series of diplomatic moves show that as both an economic and political power, the nation has become more active in the world arena under its new leadership.
A relevant concept
Observers claimed that the establishment of a new type of security concept in Asia is the chief challenge under the current regional security situation.
With the rapid economic growth of the region, the security dilemma of Asia is also a growing issue. From the Syrian crisis to the Israeli-Palestinian feud; from the South China Sea disputes to the nuclear issues on the Korean Peninsula and in Iran; from conventional security issues to non-traditional ones such as terrorism, extremism and cross-border crimes. Asia is confronted with a slew of threats to safety and stability. The security problems are increasingly impeding the development of the region.
"Compared with its booming economy, security cooperation is no doubt the short slab of Asia. So far, there is no real pan-Asian security cooperation mechanism," said Shi Ze, a senior research fellow with the China Institute of International Studies (CIIS).
Shi said the current security challenges facing Asia are all-round and multi-layered—some are left over from history, some stem from modern geopolitical rivalries and some are even caused by interference from outside powers. He claimed that only common security can help to break the security dilemma of the region, thus requiring a new security concept of Asia featuring commonality, comprehensiveness and cooperation in order to serve the interests of all regional countries.
In an interview with Shanghai-based Oriental Morning Post, Fazal Rahman, Director of Pakistani think tank Strategic Studies Institute Islamabad, said the rapidly developing Asia is facing multiple challenges; meanwhile, the "pivot to Asia" strategy of the United States has further complicated regional security.
Rahman said that with Washington's "pivot to Asia," an alarming kind of quasi-Cold War and quasi-alliance mindset is on the rise in Asia. Under such circumstances, Rahman claimed it is necessary to equip the CICA with a more extensive platform for security cooperation to reduce risks.
Yang Jin, a researcher on international security with the Chinese Academy of Social Sciences (CASS), echoed Rahman's viewpoint.