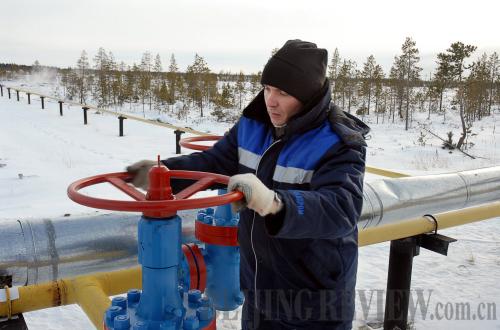 RELEASING ENERGY: A worker opens the valve of a gas pipeline of the Russian Gazprom company at the Vyngayakhinsky gas fields in Siberia (XINHUA)
The marathon session of China-Russia natural gas negotiations is expected to make a final sprint to the finish line. Energy experts from both sides revealed that a contract to bring Russian gas to China would be signed during Russian President Vladimir Putin's visit to Beijing on May 20-21. The energy arrangement will act as a new bond linking the two nations closer together.
A price beyond expectation
As Putin's China tour approached in May, both sides had high expectations for the energy deal. But industry experts predicted that the price of natural gas from Russia might reach $400 per 1,000 cubic meters, a figure far exceeding Chinese enterprises' hopes.
Xia Yishan, Chairman of the China Center for Energy Strategy Studies and senior research fellow of China Institute of International Studies (CIIS), noted that negotiations over natural gas pipelines between China and Russia have lasted more than two decades. "Now both sides are very optimistic about the deal," he said.
Alexy Belogoriev, Deputy Director General of the Institute of Energy Strategy in Russia, predicted that once the deal is inked, Russia will transport 30 billion cubic meters of gas via the western line and 38 billion cubic meters via the eastern line to China starting in 2018. "The current target is not a big volume. Russia annually sells 160 billion cubic meters of natural gas to Europe, but its future gas supply to China is expected to total about one third of Russia's total gas trade overseas," said Belogoriev.
Currently, there are two natural gas pipelines leading to China that are under construction. The eastern line starts from Russia's Eastern Siberia to China's northeast. And the western line will run 2,800 km from Western Siberia to China's Xinjiang Uygur Autonomous Region.
Now that the Chinese and Russian governments have agreed to transport Russian gas to China, the only question remaining is at what price the gas will be sold.
According to Sun Yongxiang, a researcher with the Development and Research Institute of the State Council, Russia may sell its gas supply to China at a price of $400 per 1,000 cubic meters. "The stated price is more than Chinese energy enterprises can agree to," said Sun. "And that is why they are hesitant to sign on."
This price is significantly higher than Chinese enterprises' expectations. In June 2013, Chinese negotiators suggested a price of $235 per 1,000 cubic meters, but this was swiftly rejected by the Russians. In 2013, China purchased gas from Central Asian for about $165 to $195 per 1,000 cubic meters, but the annual import volume was less than 40 billion cubic meters.
In Russia, gas costs about $108 per 1,000 cubic meters. The same amount is sold to Europe at a price of $380. In 2009, Ukraine signed a contract with Russia, agreeing to buy Russian gas for $400 per 1,000 cubic meters. Following the Ukrainian crisis, Russia hiked the prices to the country up to $485.
Sun predicted that despite the high price offered by the Russians, a deal still could be reached. "It is true that building pipelines through Siberia is more difficult and comes with higher construction and transportation costs," he said. In return, China may offer favorable tax breaks for Chinese enterprises buying Russian natural gas and thereby ensure long-term energy security.