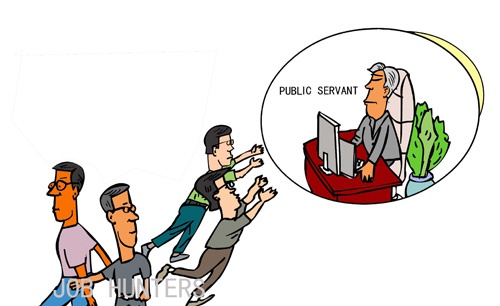 (LI SHIGONG)
The civil servant examination is seen as the most popular examination among job hunters in China. However, statistics show that in Beijing, Shanghai and provinces like Zhejiang and Guangdong, the number of applicants for the examination has been on the decline. In east China's Zhejiang Province, which enjoys the most developed private economy in the country, 227,000 sat the exam this year, a significant drop compared to last year's 360,000.
For many years, the competition for civil servant posts was cutthroat, as the number of applicants outweighed the availability of positions. Faced with a tough employment situation, finding a stable and decent job such as being a civil servant is seen as the best choice for many university graduates. However, with the reports of civil servants' complaints about bad welfare treatment and heavy work stress appearing, the attraction of being a civil servant to young people seems to be waning. The following are excerpts of opinions concerning this issue:
Yu Zeyuan (www.chinanews.com): Stable incomes, high medical and pension insurance and other advantages make being a civil servant attractive to many college graduates in China. But in fact, salaries of civil servants are not as high as many think. In the coastal economically developed regions, ordinary civil servants will not necessarily be able to live a more decent life than others if they depend on their salaries alone. So why are so many people still tripping over themselves to become a civil servant? Being a civil servant means no unemployment risk. Compared with high unemployment risks and low welfare at non-governmental institutions, such as private enterprises, being a civil servant is a much better choice. Another reason is that civil servants have access to all kinds of privileges that are unavailable to ordinary people, and sometimes, these privileges can be transferred to tangible interests.
Zhang Guoyu (www.youth.cn): A decreasing number of young people applying for the national civil servant examination shows that the desirability of these jobs is starting to wear off. This is good news for both individuals and the country. There are two main reasons for this. First, the anti-corruption campaign is stripping civil servants of privileges, hidden welfare and gray incomes. Second, the country's government streamlining administration policy is stripping down large government organs, leading to a reduced demand for civil servants.
To some extent, this implies that in Chinese society, young people have developed a broader vision for their careers. Some people are pursuing higher incomes, some pursue more freedom, while some others expect bigger developments in the future.
No matter what kind of work they are engaged in, recent graduates must try not to expect too much. They can work with a business, or in government departments, as long as they are making use of their expertise and ability for the country's development.
The modernization of state governance relies on the modernization of the young. Therefore, it's important for young civil servants to be able to devote themselves to the country's development and progress, instead of only being interested in the benefits brought by this job.
For civil servants, the most important trait is a desire to make a contribution to society, to fulfill one's dream through contributions to the country and to the people. They are supposed to work for the greater good and the happiness of other people. Civil servants do not create wealth or value, but they are able to obtain this goal by guiding and helping the public to create wealth and value. It's thus important to bring devoted young people into the army of civil servants. Incentive and restrictions are also crucial in encouraging them to do what should be done and discouraging them from what should not be.