Integration
In addition to industrial coordination, efforts should be made in building an efficient traffic network to get Beijing, Tianjin and the cities in Hebei fully connected, a move which will jump-start the integration in days to come.
It's expected that by the year 2020, the Jing-Jin-Ji traffic network will comprise 9,500-km railways and 9,000-km expressways, keeping travel times between any major cities in the regions under one hour by train or three hours by car.
According to the Outline of Beijing Traffic Development (2004-30), Beijing is committed to building a large outer ring road running 940 km and high-speed channels in six directions to link it to adjacent areas. So far, roughly half of the outer ring road has been completed, leaving 490 km still under construction.
Tianjin has also gotten its teeth into weaving its own traffic grid, including Binshi Expressway, Jingtai Expressway, Jingqin Expressway, the first phase of Tanglang Expressway, the second phase of Tangcheng Expressway and Jishan Expressway, ensuring that there are three high-speed channels between the cities of Beijing, Tianjin and Shijiazhuang.
Teaming up with Beijing, Hebei will concentrate on building the large outer ring road in order to relieve the capital's inward and outward traffic pressures, because 850 km of the 940 km ring road lies in the territory of Hebei, linking the Jingzhang, Jingshen, Jinghu, Jingtai, Daguang and Jingzhu expressways.
As the Central Government reiterated, integrating regional prevention and control of air pollution as well as infrastructure construction should top the agenda in molding the Jing-Jin-Ji economic circle.
The crux lies in the elimination of overcapacity. Among the three major city agglomerations, the Jing-Jin-Ji circle is lagging far behind in air quality with 69 percent days in 2013 failing to reach the national air-quality standard. In the past years, Beijing witnessed a decline in coal consumption, Tianjin held steady while Hebei swallowed the largest share of coal burning, which can be as high as 80 percent of the total volume the region consumed. The geographical proximity of the three areas means the air quality in Beijing is substantially affected by Hebei's resolution in industrial restructuring and capacity reduction.
As, Yin Guangping, Deputy Director of the Hebei Environmental Protection Bureau, suggested Hebei phase out a production capacity of 60 million tons in iron and steel, 61 tons in cement, and 40 million tons in coal, and help 123 heavy- pollution enterprises transform production mode or move them elsewhere by 2017.
Some experts insist that cutting production capacity bode ill for GDP growth, fiscal revenue and employment. In 2012, Hebei scored high by ranking sixth in GDP nationwide, underlying which are the mushrooming heavy chemical industry and mounting energy consumption. Despite this, the province has still opted to crack a tough nut.
"The Jing-Jin-Ji region is most afflicted by air pollution, with Hebei taking the most blame. As far as it's concerned, excessive emissions are the prime culprit," said Yin, who appealed for restructuring energy consumption and steering away from the existing energy-intensive growth mode in Hebei.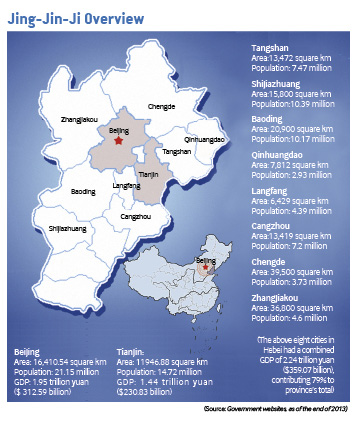 On the other hand, progress still needs to be made in the joint prevention and control mechanism. "Since industrial structure and pollutant emission are quite divergent in different parts of the region, it's hard to promote a universal standard for the elimination of outdated capacity," said Zhuang Zhidong, Deputy Director of the Beijing Environmental Protection Bureau.
In 2012, major sources of air pollution in Beijing, Tianjin and Hebei were nitric oxide generated by motor vehicles, sulfur dioxide discharged by coal burning, and industrial manufacturing, respectively. In many ways, the joint prevention and control mechanism can be expensive and costly.
Song Guojun, professor on environmental policies and planning from Renmin University of China based in Beijing, advocated that a special institution be established to take charge of drawing up plans, holding discussions, sharing and disclosing information. He stressed "the body needs to be independent, efficient and impartial."
Email us at: dengyaqing@bjreview.com