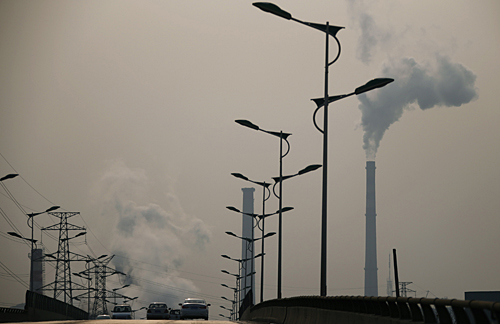 GRAY SKY: Smoke rises from the chimneys of a steel plant next to a viaduct on a hazy day in Tangshan, Hebei Province on February 18, 2014 (CFP)
The three members of the Jing-Jin-Ji region are also quite differentiated from each other, according to Li. The supreme administrative power Beijing has been endowed with has helped it evolve into a hub for the service industry, while Tianjin still sticks to a path of industrial development. Hebei Province, dwarfed by Beijing's glory, is not only unable to profit from its geographic advantages, but is also subject to losing manpower resources to the capital. The dilemma that Hebei faces has forced it to seek growth from local resources like iron and steel in the past.
Li said that since almost all the cities concerned hope to attract quality resources rather than high-polluting and labor-intensive industries from Beijing, competition has been intensifying recently. As a consequence, it's difficult to balance distribution of benefits and foster resource complementation among cities on the periphery of Beijing.
He went on to explain that due to the large gap in per-capita fiscal revenue, income and infrastructure, it's almost impossible to compare Tianjin or Hebei hukou, or permanent residency permit, with that of Beijing.
Quality economic and social resources flow into Beijing all the time owing to the city offering the best level of public welfare in the country.
At present, as hordes of young workers and college graduates continue to flood into Beijing, a cluster of satellite towns have come into being in its vicinity, such as Tongzhou and Changping districts. Since these small towns don't have independent economic functions, local residents have to commute for hours to get to offices downtown, which has severely aggravated urban afflictions such as traffic gridlock. To reduce the population, the city should cut down the economic and administrative functions it wields.
Zhou Benshun, Secretary of the Communist Party of China Hebei Provincial Committee, said that Hebei would be the largest beneficiary of the Capital Economic Circle, and should exploit all opportunities available to become a new economic growth center.
For years, Hebei has gotten used to viewing itself as a vegetable basket for, or an affiliate to, Beijing and because of this, it hasn't set about formulating a long-term practical and sustainable development strategy and has gradually lost its edge as a coastal province. Now, it should be able to make a difference.
As Zhou noted, Hebei needs to serve the general benefit of the Jing-Jin-Ji area and at the same time, forge its own competitive edge by taking some functions, industries and resource factors from Beijing. "The rising of Hebei in the drive will exert a far-reaching effect on its future development," he said.
On the other side, Song Limin, deputy chief of the Hebei Provincial Development and Reform Commission, argued that Hebei would not bring in outdated production capacity from the capital. "The province will only introduce industries which have already had a solid industrial foundation and keep pace with national industrial policies. It is an process of evolution and progress," said Song.
Recently, Xu Heyi, Chairman of BAIC Group, a Beijing-based automobile giant, suggested that the company had planned to move its manufacturing facilities to Huanghua, Hebei, while gearing its Beijing-based headquarters toward technological innovation, sales services and high-end car production.
Yet, things don't always go on as planned. Like what happened during the drafting of the Yangtze River Delta development plan, most neighboring cities now elbow to introduce high-yield industries from Beijing, such as real estate programs, which hinders the complementary resource allocation in the region and, in turn, intensifies competition.