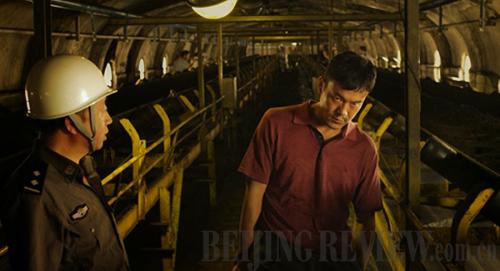 Black Coal, Thin Ice (FILE)
Back from Berlin
It was on the evening of February 15, the day after Liao's 40th birthday, when he received the Silver Bear award. Liao said he had promised his mother he would win the award before departing for Berlin.
"I said that to make my mother happy. Actually, I was not so confident in winning the Silver Bear," Liao said to Beijing Review after he came back to Beijing.
In Black Coal, Thin Ice, Liao's portrayal of a police officer who tries to discover the truth of a series of mysterious murders is a divergence from his past roles. Liao gained 10 kg for the film, transforming himself from a muscle man to an aging ex-police officer. He said he identified with the difficulties and twists of life that the character met with, allowing him to experience a long overdue catharsis. Thus, the Silver Bear came at just the right time for Liao.
Despite heavy commercial ink, Liao didn't think Black Coal, Thin Ice would cater to the tastes of average cinemagoers. The International Jury of Berlinale spoke highly of the artistic feature of the film, commenting, "Director Diao's use of the characters of the ex-police officer and the femme fatale is a direct reference to classic detective films. The director's third feature is a noir thriller in drained colors which, whilst playfully alluding to the genre, also invites us into the lives of very ordinary people."
As for his thoughts on being a budding film star, Liao is prudent. "I couldn't say," Liao smiled.
Today, China has become the second largest box office in the world. In 2013, total box office receipts reached 21.7 billion yuan ($3.5 billion) and domestic movies accounted for 60 percent of total earnings. However, the booming market is dominated by commercial films. Art films remain on the fringes of popular consumption. In particular, very few theaters screen independent films. The high praise of art films is quickly countered by their embarrassingly small profits. Black Coal, Thin Ice now has hit cinemas in China, but its ability to draw audiences is uncertain. Liao found his personal success through art films, but will the genre itself follow suit?
Email us at: weiyao@bjreview.com