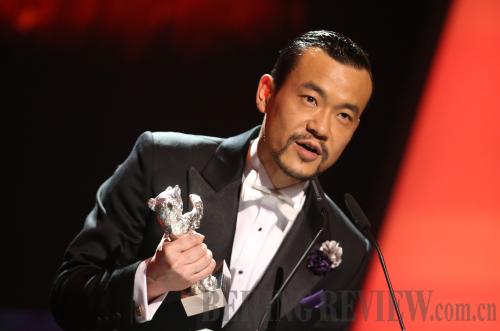 WINNER: Liao Fan receives the Silver Bear for Best Actor during the closing ceremony of the 64th Berlin International Film Festival on February 15 in Berlin, Germany (GETTY IMAGES)
Who is Liao Fan? That would have been a challenging question for even the most ardent Chinese moviegoer two months ago. But now, as the first Chinese actor to win the Silver Bear award for Best Actor, Liao has become a household name across the country, thanks to his outstanding performance in the thriller film Black Coal, Thin Ice, directed by Diao Yinan. In addition, the film for which Liao earned his recognition also won the Golden Bear for Best Film.
Liao was crowned best actor at the 64th Berlin International Film Festival, or the Berlinale, held on February 6-16. On February 24, film production company Huayi Brothers Media Group held a party in Liao's honor to celebrate his unprecedented success. Yao Chen, one of Liao's friends and a fellow film star, said that Liao's award acts as important encouragement for all art film actors and actresses.
Supporting role start
Meng Jinghui, the well-known Chinese stage play director, congratulated his close friend Liao at the star-studded gathering. Liao's first foray into acting began in a film directed by Meng.
In autumn of 2001, Meng released the independent movie Chicken Poets. The low-budget art film's production cost totaled less than 3 million yuan ($481,800). Like most Chinese art films, Chicken Poets earned little at the box office and gained little attention. Liao was 27 years old when he made his debut in the film as a supporting actor.
Before 2001, Liao focused on stage plays. He was recruited as a drama actor by the Beijing-based National Theatre of China (NTC) after he graduated in 1997 from the Shanghai Theatre Academy, one of China's most famed universities of the performing arts. At that time, Meng was a stage play director at the NTC, and the two often worked together on theater productions. In 2010, Liao joined Huayi Brothers, the largest private film production company in China.
"His future is unlimited. There is plenty of scope for him to develop his acting career," Meng said.
The Silver Bear is not the first international film prize that has been awarded to Liao. In 2005, he won Best Actor at the 18th Singapore International Film Festival for his performance in the film Green Hat. And in 2008, he was nominated for best actor at the 45th Golden Horse Award for his performance in Ocean Flame.
However, it took time for Liao to become a wildly-known film star—perhaps due to his unique character. After graduation Liao immersed himself in stage plays while some of his schoolmates engaged in commercial film productions. In 1998, Liao played a supporting role in the popular youth idol series Cherish Our Love Forever, but did not rise to fame overnight like the TV show did. In the following years, Liao acted in supporting roles on several other popular TV series.
Liao insisted on working in art films despite their low budgets and limited box office revenue. For some time, Liao was labeled as an art film actor who was cast in supporting roles. With poor sales in the Chinese market, art films rarely make it to theaters. While few moviegoers knew of Liao, he nonetheless developed his acting skills by working these low-key productions.
The actor finally scored a leading role in the film Green Hat (2004) directed by Liu Fendou. With the film, Liao earned his first Best Actor award in the18th Singapore International Film Festival even though the film failed in the domestic box office. Nevertheless, Liao had drawn the attention of commercial film directors and investors in China.
Eventually, Liao made a turning point in a domestic blockbuster Let the Bullets Fly (2010) which earned over 700 million yuan ($112.7 million) at the Chinese box office. The film was directed by Jiang Wen. Liao co-starred in the film, impressing audiences as a tough gunner. Then Liao joined Jackie Chan's action movie CZ12 and further expanded his name in commercial films.