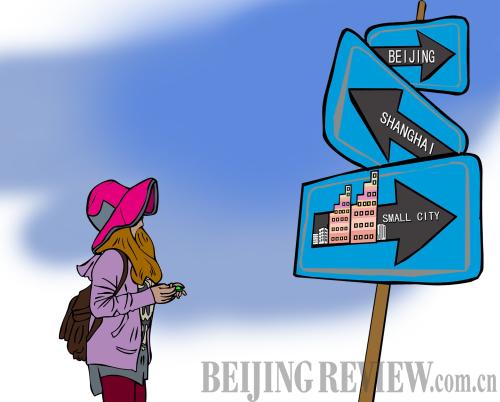 (LI SHIGONG)
There is a new buzzword among office workers and college graduates: Fleeing Beijing, Shanghai and Guangzhou—the three largest cities in China where they once planned to find a niche, due to rocketing housing prices, difficulty finding a job, the high pressure of "survival" and the difficulty to obtain a hukou, or household registration, in these cities. In a word, they cannot see a happy life for themselves in the near future in these big cities.
One of China's human resources service companies, www.zhaopin.com, recently issued general statistics on online recruitment, which revealed that 61 percent of college graduates who were born since the 1990s choose to leave first-tier cities like Beijing, Shanghai and Guangzhou for second- or third-tier cities when it comes to working and living.
In February 2013, a survey based on statistics from 500 employers show that, fewer than 30 percent of the year's college graduates in both Beijing and Shanghai managed to sign formal contracts with employers in the city. In 2011, 46 percent of the year's college graduates expressed their willingness to leave first-tier cities, but in 2013, this rose to 61 percent.
To stay and fight for a brighter future in larger cities, or to stay in smaller cities for a relatively comfortable life? This question plagues many of young students who are struggling to seek a successful life through self-diligence. The risk is that fighting and struggling in big cities cannot necessarily ensure successful life. On the other hand, these young people may not feel satisfied with the comfortable and slow life in smaller cities. Meanwhile, some young college graduates who once fled big cities are streaming back. They are still in helpless situations, and might feel a bit bitter, but ultimately, they are back. The following are excerpts of opinions on this phenomenon:
Guo Wenjing (www.people.com.cn): The topic of fleeing Beijing, Shanghai and Guangzhou has been popular for 10 years. If there is a huge population outflow from these big cities, 10 years' of fleeing should have left the cities in serious economic recession. However, it is not like this. This result tells that the so-called "fleeing" phenomenon does not exist. Or rather that if it does exist, it is not happening on a large scale.
Take Beijing for example, in the past 10 years, the population aged from 20 to 39 of the whole country increased by 31 percent, but in Beijing, the rate was higher than 50 percent.
Beijing's college graduates reached 229,000 in 2013. Every year, Beijing receives an extra population of 600,000 or so, with people aged from 20 to 39 accounting for 62.8 percent. Therefore, even if it is true that 60 percent of college graduates have left Beijing, there still around 20,000 graduates choose to stay in Beijing, and this figure does not include college graduates trying to find jobs in Beijing from outside the capital city.
The current media hype over fleeing the big cities actually reflects people's desire for a happy life and the gloomy reality of big cities. Big cities like Beijing and Shanghai are trying to solve these problems, and many second- and third-tier cities are also facing these problems to different extents. The hype over the "fleeing" will exert a negative influence on the youth and could even mislead them.
No one knows exactly how many have left or are leaving. By using the word fleeing to describe their action, people mean to voice their protest against high home prices and the pressure in big cities, but the action falls short of a trend. On the contrary, while some are leaving, still more people are pouring in.
One has to face various choices in their lifetime. To stay or to flee, everyone facing this choice needs to do some serious consideration before taking action. It's not supposed to be a gamble on one's life, but everyone in this dilemma has to take full responsibility for his or her own fate.
Guo Xiaoran (www.cnhubei.com): Actually, wherever one decides to go, there are pros and cons. Indeed, big cities tend to offer more opportunities, but people will also meet more challenges and face more pressure. However, if one is able to transform pressure into his or her internal driving force, success in career and life is likely. For some young people, they'll feel repentant if they leave big cities without first trying to fight for a bright future, and if they have done so first, even if the final result is failure, they'll feel satisfied. Life pressure exists everywhere. To face up to difficulty, pressure and all kinds of challenges on the way forward in one's lifetime is what a brave person should do. Maybe one more step forward and you'll reach success.
However, everyone has the freedom to choose to stay and fight or to leave for smaller cities for a relatively easier life. To go to a smaller city does not necessarily mean failure.
Zhang Chewei (www.chinanews.com): The population in big cities like Beijing, Shanghai and Guangzhou continues to rise rapidly, and this fact may counter the argument that the so-called fleeing big city phenomenon is not something that is happening, but that it is rather a symptom people's aspiration to flee from pressures of living.
However, despite the high cost of living and heavy pressure, many people still try to rush into big cities. What is behind this paradox? The major reason is big cities offer more opportunities for work and career development for young people. At least at the present stage of the country's development, big cities seem more attractive in many aspects than second- and third-tiered cities.
Hu Yinbin (www.dayoo.com): Big cities like Beijing and Shanghai used to be alluring to college graduates. Today, although many graduates still find them irresistible, an increasing number of students choose to go back to their second- and third-tiered hometowns. However, an online survey alone is not enough to prove that 61 percent of college graduates are really fleeing or are ready to flee from big cities.
There is a line between the real action of fleeing and the wish to flee. Obviously, there is no such distinction between action and aspiration in the survey. Many students are actually expressing their dissatisfaction with their current situation in these big cities by saying that they want to leave. If it is true that 61 percent of college graduates are fleeing these cities, it would be impossible to see an ever swelling population in these cities.
The high cost of living, including high house prices as well as a shortage of educational and medical resources, is driving some college graduates out of big cities like Beijing and Shanghai. To some extent, young people's aspiration to flee is delivering a signal to the government: more efforts should be made to create jobs and improve the business environment.
As far as individual students are concerned, one does not need to feel nervous in front of the "fleeing theory," and to blindly rush out of these cities is not a wise choice either. Everyone is different in terms of aptitude, adaptability and competitiveness. To stay in big cities or to retreat to smaller ones is a personal decision.
Email us at: zanjifang@bjreview.com