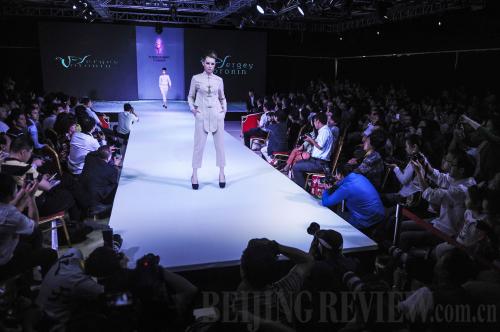 THE SILK ROAD CATWALK: More than 1,000 fashion brands from China and Central Asian countries hold a joint show in northwest China's Xinjiang Uygur Autonomous Region in September 2013 (XINHUA)
During his visits to Kazakhstan and Indonesia in September and October 2013 respectively, Chinese President Xi Jinping called for the joint development of an economic belt along the Silk Road and a maritime Silk Road for the 21st century. These are two major initiatives that China has put forward to deepen the reform and opening up and advance diplomacy with its close neighbors.
The Silk Road spirit
Over 2,000 years ago, the industrious and brave people of the Eurasian continent opened several trade routes connecting major civilizations across Asia, Europe and Africa. Together, these routes were referred to as the Silk Road by succeeding generations. Countries large and small along the routes all reaped considerable benefit from the Silk Road. China learnt a lot from other countries, just as those countries learnt from China. The Silk Road made exchanges of goods, knowledge, people and ideas possible, as well as promoting economic, cultural and social progress in the countries connected by it and facilitating dialogue and integration between different civilizations.
The 21st century is an era dominated by peace, development and cooperation, but it also features a complex international and regional landscape. In this context, the Silk Road has become all the more important and precious as a symbol of peace, cooperation, openness, inclusiveness, mutual learning and resilience. As our ancestors treated each other with respect as equals, worked for their mutual benefit and rose above occasional hostility 2,000 years ago, is it all the more pressing for us today to carry this invaluable legacy forward. It is crucial that the international community embraces the spirit of the ancient Silk Road, brings it up to date, instills it with greater dynamism, and realizes its value in this new age.
Regional cooperation
Asia, now known as an engine of global growth and a key driver for economic globalization, plays a critical and increasing role in the shaping of the international landscape. Meanwhile, Asia faces multiple challenges, old and new, including mounting pressures to stay vibrant. It will be the common goal of all Asian countries to consolidate and maintain the favorable situation of peace and development in Asia, build a stronger consensus between one another, enhance the awareness of a community of shared interest and shared destiny for a harmonious Asia, and achieve the comprehensive rejuvenation of all Asian countries.
The development of economic belts along the Silk Road and the Maritime Silk Road will create greater connectivity across Asia's sub-regions, and help the establishment and improvement of the continent's supply chain, industrial chain and value chain, thus bringing Pan-Asian and Eurasian cooperation to a new level.
Profound changes are taking place with respect to global growth, trade, investment and capital flow. Eurasian countries, all of which are in a critical state of transition and development, desperately need to unleash their potential and that of the region, create more growth and make their economies more dynamic and more resilient in order to fend off risks.
Although there are obvious differences in history, culture, religion and level of development, Eurasian countries need to give scope to their advantages, follow a path of diversified development, and build diplomatic ties while constantly seeking common ground. Personnel exchanges, cultural interactions and dialogues are of the utmost importance.
For China, unbalanced development remains a problem, especially between its eastern region and central and western regions. To solve this problem, it needs to promote the transfer of resources and industries between different regions, allowing for the resource-based and geographical advantages of the central and western regions and tapping their potential for exchanges and cooperation with neighboring countries.