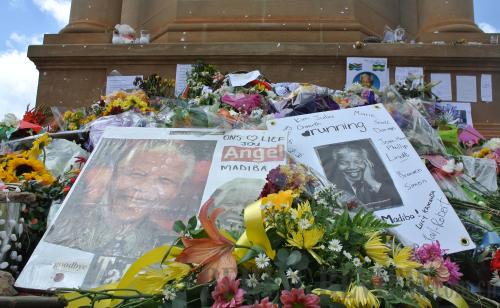 REMEMBERANCE: Flowers are placed at the base of the monument in front of the South African Presidential Palace to mourn the late South African President Nelson Mandela on December 11 (GUO XINGHUA)
Perseverance, tolerance and selflessness made Nelson Mandela's life a legendary one.
On December 5, the 95-year-old icon of democracy, equality and freedom completed his life journey. After he inspired the world with peace, tolerance and love, the world returns to him an enormous outpouring of respect and praise. His spirit motivated generations of people like the light of a torch. He will be remembered for his contribution to all mankind. Passing on Mandela's torch of freedom, equality and tolerance to solve conflicts and hatred in the world will be the best way to memorize this great leader.
Mandela's biggest contribution is the realization of racial equality and national reconciliation in South Africa after centuries of racial discrimination and segregation. Mandela, who was born in a tribal chief family in southeast South Africa, led a decades-long struggle against apartheid. He was jailed for 27 years and released in 1990 before going on to become South Africa's first post-apartheid president in 1994. He called for tolerance instead of revenge, and avoided a race war during the transition between the old and new systems.
The world also treasures Mandela for his personal characteristics like selflessness and perseverance. He never gave up his political beliefs during the decades behind bars. He didn't lust for power, and resolutely stepped down from the presidency after a five-year term, but never stagnated in the struggle to better the lives of all people in Africa. In the process, he won their hearts.
Since South African President Jacob Zuma announced the death of Mandela on the night of December 5, Mandela's residence in Houghton, Johannesburg, were crowded with people coming to mourn him and celebrate his life.
Security guard Milton Baron was part of the singing and dancing group. He said that they celebrated what Madiba (Mandela's Xhosa clan name) had done for the people. "He is an icon and the father of the nation," said Baron.
Jeanette Hlangwane cried after laying flowers before Madiba's portrait. She saw Mandela as father. "I was sad because I didn't spend time with my father when he was with us," she said.
Michael Baillie said that he had mixed feelings—sad for losing such an incredible man who had done so much for the people, but glad that the man could now rest in peace. Baillie said that it was incredible to see that Mandela's passing united the nation again.
Mandela was not only revered as "the father of the nation" by the South African people but also won the respect and admiration of people from around the world. More than 90 world leaders came to the memorial service to honor Mandela on December 10, and his funeral was the biggest in modern history.
Mandela was an old friend of the Chinese people and a household name in China. He visited China twice, and also was one of the founders of China-South Africa relations. In the 1990s, a popular Chinese rock band wrote a song for Mandela for his contribution to the human beings, inspiring generations of young Chinese. Chinese people expressed deepest condolences upon Mandela's death.
After the passing of Mandela, Chinese President Xi Jinping and Premier Li Keqiang immediately sent messages of condolences to South African President Jacob Zuma. They spoke highly of his historic role in the anti-apartheid struggle and the building of a new South Africa, commending his great contribution to the establishment and growth of China-South Africa ties.
Vice President Li Yuanchao went to the South African Embassy in China to express condolences and attended a memorial event held on December 10 in South Africa as the Special Representative of President Xi. The Chinese Embassy in South Africa flew its flag at half-mast.
Speaking at the memorial service held in FNB stadium in Johannesburg on December 10, Li Yuanchao paid high tribute to Mandela, saying that the Chinese will always cherish Mandela's contribution to China-South Africa relations. "Mr. Mandela is the pride of the African people," said Li Yuanchao. "We are deeply saddened by the loss of such a great friend. At the same time, we are heartened to see that the cause Mr. Mandela had started will be carried forward."
China and South Africa are both emerging economies, with their economic cooperation rapidly growing alongside closer political ties. In 2012, bilateral trade reached nearly $60 billion, about 40 times of what it was in 1998. China has been South Africa's biggest trading partner since 2008, while South Africa is China's top trading partner in Africa.
"China stands ready to work with South Africa to deepen the China-South Africa comprehensive strategic partnership, bring benefits to the two countries and peoples, and make positive contributions to the noble cause of world peace and development," Li Yuanchao said.
Mandela has finished his journey. But there is still much to be done in South Africa and the world. Today, South Africa has many problems such as slowing economic growth, a wide gap between the rich and poor, violence, high crime rates and corruption. Mandela left a precious spiritual legacy of positive energy. By passing on Mandela's legacy of equality, friendship, tolerance and reconciliation, people will build a more harmonious world that Mandela himself would have wanted to see.
(With Li Jianguo and Lu Anqi reporting from Johannesburg, South Africa )
Email us at: dingying@bjreview.com
Selected Quotes from Mandela
"It is said that no one truly knows a nation until one has been inside its jails. A nation should not be judged by how it treats its highest citizens, but its lowest ones."
"No one is born hating another person because of the color of his skin, or his background, or his religion. People must learn to hate, and if they can learn to hate, they can be taught to love, for love comes more naturally to the human heart than its opposite."
"If I had my time over I would do the same again. So would any man who dares call himself a man."
"Difficulties break some men but make others. No axe is sharp enough to cut the soul of a sinner who keeps on trying, one armed with the hope that he will rise even in the end."
"What counts in life is not the mere fact that we have lived. It is what difference we have made to the lives of others that will determine the significance of the life we lead."
(Copyright © 2010 by Nelson R. Mandela and The Nelson Mandela Foundation)