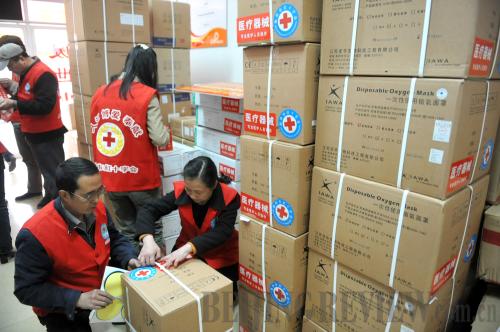 READY TO GO: Volunteers from the Red Cross Society of Yangzhou in Jiangsu Province pack relief supplies to be sent to quake-hit areas on April 21 (ZHUANG WENBIN)
The One Foundation initiated by Chinese movie star Jet Li set up a donation account on April 20, and received more than 15 million yuan ($2.4 million) in donations from 230,000 individuals and enterprises by the end of the day.
The foundation has already sent bottled water, flashlights and tents to the quake-stricken area, and it is releasing the latest rescue progress on its official microblog account.
"A transparent and influential fund like the One Foundation is trustworthy. One individual may be meager, but we can help victims a lot if we work together," said Gu Shen, a college student in Beijing who donated 500 yuan ($81) to the fund.
"The mobilization of social forces and volunteers, the input of social resources and distribution of rescue materials have all made progress," said Wang Shaoyu, a public security planning and risk management expert with Harbin Institute of Technology.
Nevertheless, he admitted there were still some areas for improvement. "China needs a mechanism to decide how, when, and where to allocate rescue workers and relief goods when dealing with different types and levels of disasters," Wang said. "The government should also set forth emergency treatment skill standards for volunteers."
Impacts
The Chinese Academy of Sciences said on April 23 that the Lushan quake was a strong aftershock of the 2008 earthquake. The researchers also concluded that the previous quake added impetus to the latter one.
On May 12, 2008, an 8.0-magnitude earthquake hit Wenchuan County in Sichuan, claiming nearly 70,000 lives. Lushan is less than 100 km from Wenchuan.
But Jiang Haikun from the CENC's Forecasting Department had different ideas. Jiang said that the Lushan quake resembles that of the Wenchuan disaster, as both earthquakes were formed in a similar way, occurring on the Longmenshan fault zone.
"Earthquakes on this 500-km belt are infrequent, but very powerful," said Jiang. "Twelve quakes above 5.0-magnitude have occurred since 1900, including the Wenchuan earthquake, the most powerful. But the Lushan earthquake is not an aftershock of the Wenchuan earthquake."
Economic losses mainly occurred in Ya'an, a city with an economic weight of 1.67 percent in Sichuan and 0.07 percent of the national economy. Tourism and agricultural production are its major revenue sources.
"The quake has not affected major production areas for swine and grain in Sichuan. Supplies may be tight temporarily, but this can hardly reverse a recent downward trend for prices of pork, a staple meat in China," said Fan Wei, an analyst at the Beijing-based Hongyuan Securities.
Infrastructure facilities were badly damaged in some local communities, but had been restored in a much quicker fashion. By April 22, major towns in the quake zone had seen power supplies and communication systems resume functions.
"The employment of professional rescue staff and orderly government management have minimized losses and made rescue work more efficient," said Wang Xiaoguang.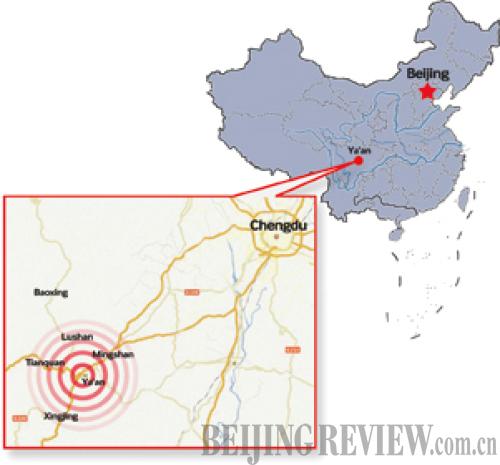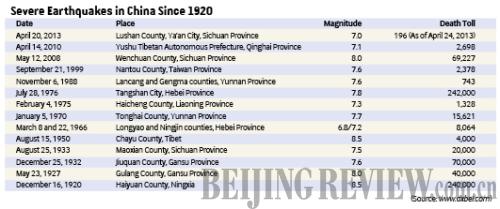 Email us at: yuanyuan@bjreview.com