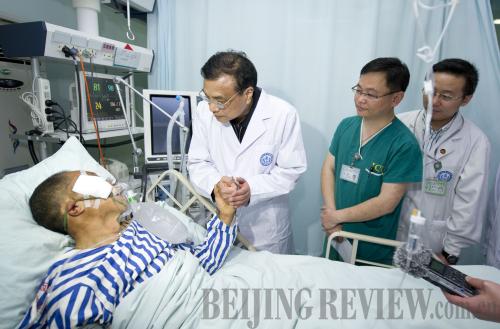 CHEERING UP: Premier Li Keqiang holds the hand of a victim seriously injured in the Lushan earthquake at Huaxi Hospital in Chengdu, Sichuan Province, on April 21 (HUANG JINGWEN)
To acquire more geographic information of the quake-hit area and the ensuing damage, the National Defense Bureau of Science, Technology and Industry initiated an emergency remote sensing mission using five satellites flying over the quake-hit area on April 20.
In lower airspace, quake-relief troops used UAVs to map small or narrow locations in the quake zone where manned reconnaissance aircraft could hardly reach.
Lang Anwu, chief of staff of an artillery regiment under the 13th Combined Corps of the PLA, said that the Beidou Navigation Satellite System, China's homegrown satellite navigation system, has enabled land rescuers to communicate among each other and with the headquarters.
With the Beidou system, the headquarters not only can acquire every rescue unit's real-time location and movements, but also contact them even if consumer telecommunications services are inaccessible.
Medical aid teams have also adopted new technologies to more effectively treat the injured.
A medical team from the Beijing-based PLA's General Hospital implemented a "tele-medicine" logistical system supported by satellite communications to efficiently distribute medicines precisely where they are needed.
Meanwhile, three types of disaster relief robots developed by the Shenyang Institute of Automation in northeastern Liaoning Province were dispatched on April 21 to quake-hit areas. Two of the robots are designed to enter ruins and detect life, while the third one, a flying robot, uses a high-definition camera to take aerial photos and send them instantly to relief departments.
"This was the first time these three types of robots were used in an earthquake rescue and relief mission," the institute said in a statement.
Concerted efforts
Chinese President Xi Jinping and Premier Li Keqiang ordered all possible measures to be taken to rescue victims and minimize deaths and injuries in the quake zone.
On April 20, Premier Li visited Ya'an to deploy the relief work.
Tents, cotton blankets and cots were sent to the ground shortly after the quake.
The Chinese Government on April 21 earmarked 1 billion yuan ($160 million) for disaster relief funding, including rescue and relief work, the relocation of people affected by the quake, medical treatment, subsidies for the victims' families, as well as for repairing damaged public facilities.
The China Meteorological Administration has launched an emergency response, ordering prompt weather condition updates for the region. The administration has also ordered close satellite monitoring and disaster analysis of the area.
"Such a quick response was unimaginable after the 2008 Wenchuan earthquake," said Li Zengchu, leader of an emergency medical rescue team dispatched by Shanghai East Hospital. "Chinese people have become quicker, more rational, and more professional in offering quake-relief aid."
Lei Xiaoxue, former anchorwoman of Sichuan Television who reported live on the 2008 Wenchuan earthquake, remarked how orderly relief efforts appeared.
"When information from fire brigades, hospitals, and civil affairs departments flooded in, everyone wanted to help but didn't know what to do first in 2008. I'm glad we know how to help now," said Lei.
Social networking sites became a platform for individual volunteers, private enterprises, charity funds and non-government rescue teams to build strength.
Many Wenchuan earthquake volunteers posted microblogs, warning that civilian teams rushing to the quake zone may be counter-productive as they could block the way for government rescue teams that are professional and experienced.
Fang Liang, a 26-year-old Chongqing resident, opened an account on microblogging service Sina Weibo to collect information on missing persons on the day of the quake, quickly drawing about 4,000 followers. The microblog had helped friends and family members locate more than 20 missing people as of April 24.