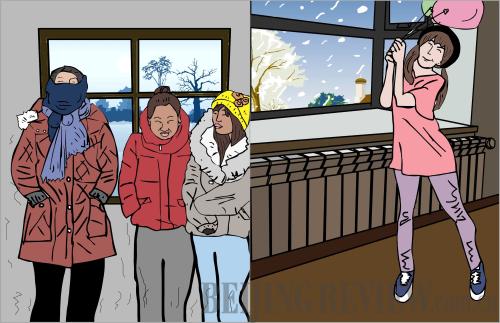 (LI SHIGONG)
Most parts of China are unusually cold this winter, including the south, which is normally warmer than the rest of the country during this time.
Currently, central heating is available in northern areas, while in the south it is not. The division line between the north and the south was traditionally set along the Qinling Mountains, which range from the west to the east, and the Huaihe River, a major waterway between the Yellow and Yangtze rivers. Only areas north of this line are equipped with central heating facilities.
Winters in recent years are especially cold, and thus the call for central heating in the south is louder than ever. Debates on whether such a system should be made available to the south are heating up this winter.
Some say that southerners have been used to humidity and cold during winter time, and thus, if their houses were to be suddenly heated, they'll have to adjust.
Others say that, since China's economic condition has greatly improved compared to the past, it is justifiable for residents in the south to enjoy central heating too. Besides, although winter temperatures in southern parts are normally higher than those in the north, higher humidity means the human body feels colder. The following are excerpts of opinions.
Supporters
Le Shui (Guangzhou Daily): The Qinling and Huaihe line, a traditional geographical division between the north and the south, was put in place more from an agricultural perspective, with little attention paid to the temperature. Nowadays, global climate change has led to frequent extreme weather conditions. In Hunan, Jiangxi, Anhui and several other southern provinces, the lowest temperature dropped to minus 10 degrees Centigrade. Moreover, high humidity often makes winter there even more unbearable than in the north.
Most of those opposed to central heating in the south say it is a costly project, in terms of money and energy. However, my opinion is that a comfortable life is the most important. Furthermore, compared to decades ago, southern provinces are economically stronger, which means providing heating facilities is feasible.
Southern provinces can also choose more environmentally friendly energy sources instead of coal, which is still widely used in the north. Clean energy, reasonable fee charges and advanced technology will help people control their budgets. South China is rich in various types of energy, diversifying supply. In Guangdong Province, nuclear power can be used to support heating services while in southwest China, solar and hydropower are the best options. In this way, people can benefit from warmer winters while heating projects could promote the upgrading of local economic development models.