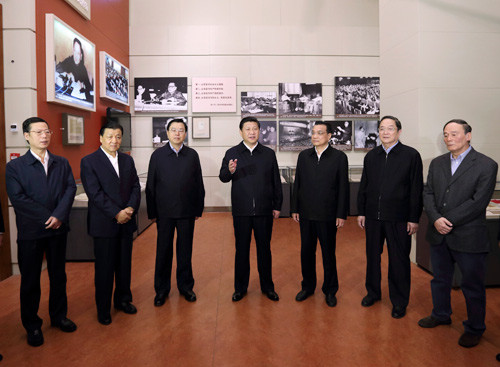 (XINHUA)
Xi Jinping (center), General Secretary of the Communist Party of China (CPC) Central Committee, visits the Road Toward Renewal exhibition at the National Museum of China in Beijing on November 29, along with other members of the Standing Committee of the CPC Central Committee Political Bureau, including Li Keqiang (third right), Zhang Dejiang (third left), Yu Zhengsheng (second right), Liu Yunshan (second left), Wang Qishan (first right) and Zhang Gaoli (first left).
Xi made a keynote speech during his visit, in which he described the exhibition as a retrospective on the Chinese nation's past, a celebration of its present and a declaration of its future.
The exhibition displays an array of historical pictures, charts, material artifacts and videos on Chinese history since the mid-19th century.