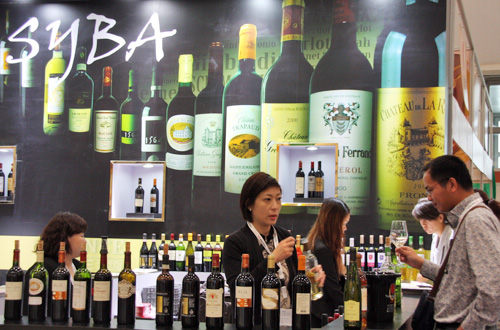 ATTRACTIVE FOREIGN BRANDS: Participants carefully observe imported wine at the Third China (Beijing) International Wine Exhibition on June 4 (GUO HAIPENG)
The China Alcoholic Drinks Association (CADA) on August 20 announced that it had filed a complaint to the Ministry of Commerce (MOFCOM), accusing winemakers in the EU of selling their products below market value and receiving unfair government subsidies.
"At the request of domestic winemakers, our association has submitted a petition to the MOFCOM, asking the ministry to launch anti-dumping and countervailing duty investigations on wine imports from the EU," said Wang Zuming, secretary general of the wine division of CADA.
"CADA has collected evidence through public channels. We have noticed a clear intention to sell European wines in the Chinese market at below-cost price. There is also sufficient evidence to show that the EU has heavily subsidized its wine industry and exporters," Wang said.
Behind the scenes
The EU is the largest wine-producing region in the world, with an annual output of 16 million tons, accounting for 69 percent of the world output.
With their excessive production capacity and the huge potential of the Chinese market, the reason for EU winemakers to dump their products in China is obvious, said Wang.
EU wine imports surged to 169,114 kiloliters in 2011, from 35,944 kiloliters in 2008, at an annual pace of 67.71 percent. In the past four years, its market share in China increased from 4.94 percent to 14.76 percent. During the first quarter, wine imports from the EU—mainly from France, Spain and Italy—surged by 24 percent from a year earlier, according to CADA.
As foreign wine merchants tap into the Chinese market, local winemakers are starting to feel the pressure. The industry's average gross margin slipped to 30 percent from around 40 percent, said Sun Fangxun, a state-level wine appraisal judge .
"Almost all wine enterprises in China have strongly felt the impact of the attack by wine imports from the EU, with operations, performance and market share seriously sliding," said Wang.
Yantai ChangYu Group Co., a leading domestic wine brand, saw its total business revenue drop 2.51 percent year on year to 3.01 billion yuan ($474.7 million) in the first half of 2012, the first such decline in the past five years, and its sales dropped 5.4 percent.
China Great Wall Wine Co.'s sales dropped 2.1 percent in 2011 from a year earlier. Dynasty Winery, a Sino-French joint venture, saw its revenue shrink 10 percent year on year in 2011.
"With the rising popularity of wine among Chinese consumers, many foreign wine brands including some with shoddy products have entered the Chinese market to reap profits," said Wang Dehui, a wine marketing specialist at the China Wine Union.
"China's wine industry is an emerging industry with great potential. The Chinese Government should strengthen the laws and regulations governing the wine industry to help domestic producers improve their competitiveness amid intensifying competition," Wang said.
Winemakers from the EU made a foray into the Chinese market because of its foreseeable great potential.
As more well-off Chinese can afford wine products, China has become the world's fifth largest consumer of wine, according to an annual industry study published in February by VINEXPO/International Wine and Spirit Research.
China's wine consumption surged 28.26 percent to 1.55 million kiloliters in 2011, overtaking the UK as the fifth largest market. Imported wines accounted for nearly one third of the market, up from less than 10 percent in 2006, according to a report by the Xinhua News Agency.