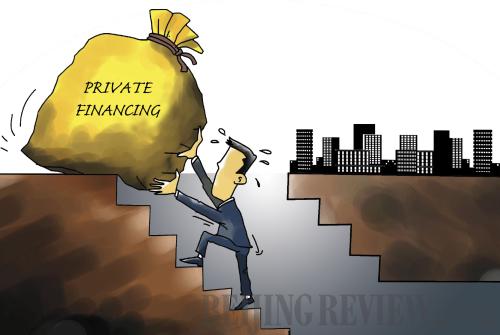 (CFP)
China's widespread private lending market, widely known but unofficially recognized, is getting special government treatment in the wake of credit calamities in Wenzhou, Zhejiang Province, China's private financing hub. A comprehensive financial reform pilot area is in the works for the city, said Premier Wen Jiabao at a State Council meeting on March 28.
The pilot area should encourage and guide private capital to enter the field of official financial services, ensure smooth access to investment channels for private capital and improve the financial services to small and micro-enterprises and rural areas, according to Zhou Xiaochuan, Governor of the People's Bank of China, the central bank.
By carrying out the reform, Wenzhou should be able to effectively improve the capability of turning private capital into industrial capital, Zhou said.
Wenzhou's large number of active private lenders and small businesses are the main reason for the government's decision to launch the pilot program in the city. Official statistics show that the private capital in Wenzhou amounted to 600 billion yuan ($95.2 billion) last year. Small and medium-sized enterprises accounted for 99 percent of the city's total.
"The reform will pull Wenzhou's real economy out of the predicament it now finds itself in and regain the reputation of Wenzhou's private enterprises," said Zheng Chen'ai, Director of Wenzhou Fashion Association.
"The government aims to test the waters through Wenzhou and then accumulate experience for the nationwide reform," said Guo Tianyong, Director of the Research Center of China Banking Industry at the Central University of Finance and Economics.
The establishment of the comprehensive financial reform pilot area in Wenzhou will serve two purposes: bringing underground private lending in the sunlight and regulating private lending, said Zhang Zhenyu, Director of Wenzhou Finance Office.
The private lending industry in China was estimated to have grown to 4 trillion yuan ($634 billion) last year, according to a research report issued by CITIC Securities based in Beijing.
In Wenzhou the size of this industry was about 180 billion yuan ($28.57 billion), with nearly 90 percent of the city's residents involved in the loan-shark business, according to the Bank of Wenzhou, the biggest local commercial bank.
According to Fang Peilin, Chairman of Wenzhou Fang Xing Guarantee Co., which helps small companies get loans by providing guarantees to lenders, the monthly interest rate for private lending in Wenzhou reached 3 percent.
"The extraordinarily high interest rate was unreasonable for enterprises, because the average profit margin was no more than 15 percent," said Ma Jinlong, former Director of Wenzhou People's Government Economic Research Center.
As the credit crunch unfolded last year, bosses of companies that faced bankruptcy or had run out of funds took flight, boarding up factories and abandoning their businesses.
After the private lending default last year, the original private lending system based on personal trust almost broke down, Fang said.
Although the government vowed to increase lending to smaller enterprises, state-owned banks that dominate the Chinese banking sector prefer to lend to well-connected state firms that can all but guarantee that the money will be repaid. Wenzhou's credit crunch last year has made lending for small enterprises even more difficult to come by.
With banks unwilling to provide small and micro-companies with financing, these companies have had nowhere to turn for capital but private, underground lenders.
The idea of changing Wenzhou's financial environment first emerged in late 2011, and the long-awaited decision came as underground private financing activities in Wenzhou have stirred up financial disputes and crime while threatening Wenzhou's financial and economic stability.
The reform program will cover 12 major tasks, including regulating and developing private financing, encouraging individual funds to set up rural banks or small lending companies, supporting lending by state-owned banks to smaller businesses and allowing individual investors to make direct overseas investment.