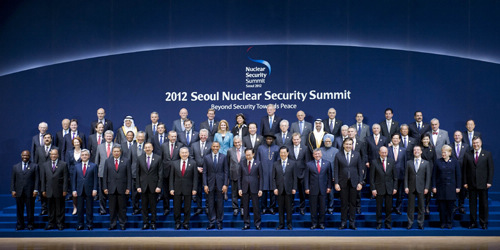 JOINT EFFORT: Leaders pose at the 2012 Seoul Nuclear Security Summit on March 27 (HUANG JINGWEN)
Nuclear power can be a gift or a curse, depending on whether it is used as a clean energy source or a destructive weapon. Nuclear power is still an important source of irreplaceable clean energy. Therefore, the best way is to maximize its advantage in civilian use while protecting nuclear security.
The urgency of enhancing nuclear safety and security requires nuclear states and related organizations to take practical measures to lower the risks of radiation accidents and illegal trading of nuclear materials through international cooperation.
This is one of the agreements reached at the 2012 Seoul Nuclear Security Summit held on March 26-27 in the South Korean capital. In a joint communiqué, leaders emphasized the need to minimize the civilian use of highly enriched uranium that can be used to produce bombs. They vowed to work together to achieve the "shared goals of nuclear disarmament, nuclear non-proliferation and peaceful uses of nuclear energy."
Zhu Xuhui, a researcher with the China National Nuclear Corp. and an expert in uranium enrichment and nuclear fuel, said a big move at this summit was encouraging the reduction of weapons-grade nuclear materials, including uranium enriched to a purity of at least 90 percent, and plutonium. There are about 1,750 tons of weapons-grade nuclear materials in the world—1,500 tons of highly enriched uranium and 250 tons of plutonium, which can be used to create nearly 126,000 nuclear weapons. The United States and Russia possess 95 percent of these materials.
"Since Russia and the United States own the majority of the world's weapons-grade nuclear materials, they should start the reduction first. Then other countries must follow their steps," Zhu said.
In 1993, Russia and the United States signed an agreement under which Russia agreed to convert 500 tons of weapons-grade uranium to low enriched uranium in the following 10 years, and the United States agreed to purchase all the converted material. The United States also promised to reduce highly enriched uranium during the same period, Zhu said.
In addition, the two nuclear giants are implementing an agreement that will result in the removal of 68 tons of plutonium.
The Seoul summit made great progress as it paid equal attention to the safety of nuclear power plants and the security of nuclear materials and facilities, said Qu Xing, President of the Chinese Institute of International Studies.
The summit, the second high-profile nuclear security event following the 2010 summit in Washington, D.C., was held a year after the nuclear disaster at Japan's Fukushima Daiichi Nuclear Power Plant. Radiation leaks triggered by the devastating earthquake and tsunami in northeast Japan on March 11 last year once again highlighted the importance of nuclear safety.
One country's nuclear accident, whether leaks at a nuclear power plant or a terrorist nuclear attack, will not only affect the country itself, but have far-reaching and long-lasting consequences, Qu said.
Today, more countries possess, or desire to possess, nuclear power than ever before. For example, about 60 countries have reported to the International Atomic Energy Agency (IAEA) for building new nuclear power plants. As a result, the number of nuclear power plants and facilities and the quantity of stored nuclear materials are bound to increase.
There have been growing worries about the malicious use of nuclear materials by terrorists. Long-distance transportation makes it easier for terrorists to acquire nuclear materials, Qu said.