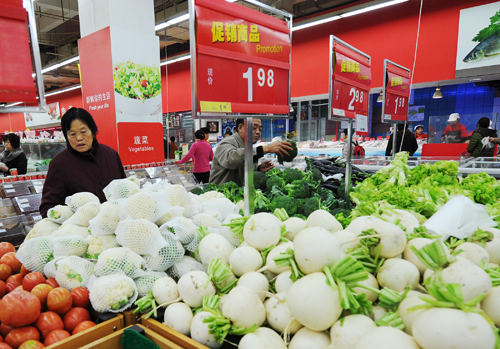 INFLATION EASES: Residents in Chongqing buy vegetables in a supermarket (LI JIAN)
The consumer price index (CPI), a barometer of inflation, grew 4.2 percent in November from a year ago, 1.3 percentage points down from October, said the National Bureau of Statistics. This was the fourth straight month of declines, after peaking at 6.5 percent in July.
The biggest driver of the CPI was still food prices, which leapt 8.8 percent in November over the same period last year. Pork prices, in particular, jumped 26.5 percent.
The producer price index (PPI), an effective gauge of inflation at the wholesale level, edged up slightly by 2.7 percent in November, 2.3 percentage points lower than the previous month.
Shen Jianguang, Greater China chief economist at Mizuho Securities Asia Ltd., said three major factors combined to weigh down the CPI: a tightening monetary environment, falling international commodities prices and increased domestic supplies of agricultural products.
The policymakers have been pushing all the buttons to tame inflation. The government has distributed subsidies to farmers in wheat-growing areas, enhanced price supervision and fought hard against speculation.
Wang Jian, Secretary General of the China Society of Macroeconomics under the National Development and Reform Commission, said China's inflation jitters are easing, but have not disappeared.
"The downward cycle of consumer prices is yet to be established," he said. "The future trend will largely depend on international commodities prices and whether China can reap a bumper harvest of grain next year."
Wang expected the inflation rate to stay elevated near 5 percent in 2012 due to persistent pressures from labor and land costs inflation.
Zhang Yongjun, a researcher with the China Center for International Economic Exchanges, also struck a note of caution.
"Lagging effects of the lending spree two years ago are tapering off, paving the way for inflation to cool off," he said. "But China's inflation is likely to come roaring back if the United States kick-starts a third round of quantitative easing."
"The challenge for policymakers is to enact measures that boost domestic demand and to loosen credit controls somewhat without stoking inflation and property price bubbles," said Jing Ulrich, JP Morgan's chairwoman for global markets.
Main Tasks for 2012
1. Strengthen and improve macroeconomic regulations and maintain stable and healthy economic development
- Adopt proactive fiscal policies and prudent monetary policies to prevent economic risks;
- Continue with structural tax reduction, step up investments to improve people's livelihood and tighten management of local government debts;
- Fine-tune monetary polices according to economic situations, optimize the credit structure and fend off financial risks;
- Increase investment in agriculture, farmers, rural areas and affordable housing construction, and continue supporting technology innovation, environment protection, strategic emerging industries and key infrastructure projects.
2. Reinforce supplies of agricultural products
- Increase subsidies to agricultural productions and bump up the minimum purchase prices of grain;
- Tighten rural infrastructure construction, including irrigation projects, roads and grids;
- Strengthen efforts to promote rural compulsory education and secondary vocational education, and expand coverage of the new rural social pension system.
3. Speed up economic structural adjustments
- Encourage consumption and increase income of residents, especially poorer population;
- Propel innovation, protect intellectual property rights and sharpen industrial competitiveness;
- Cut back on outdated industrial capacities, promote mergers and acquisitions, develop new energies, stimulate the modern service sector, invigorate the cultural industry and enhance energy conservation and emission reductions.
4. Deepen reforms and further open up to the outside world
- Push forward the value-added tax reform and the pilot program of property tax, reform the resource tax system and research on the environment protection tax reform;
- Deepen market reforms of interest rates, further reform the yuan exchange rate regime and ensure basic stability of the yuan;
- Maintain steady growth of exports, upgrade export structure, expand imports and seek trade balance;
- Attract foreign investments to the central and western regions, widen outbound investments and fight against protectionism in any form.
5. Improve people's livelihood
- Increase the quality of education, promote employment and support labor-intensive industries and small and micro-sized enterprises;
- Improve the social safety net, expand pension systems and help migrant workers in employment, housing, medical health and education of their children;
- Tighten funding, construction, operation and management of affordable housing projects, adhere to control measures of the real estate markets, bring house prices back to a reasonable level, expand supplies of commercial houses and promote healthy development of the property markets.