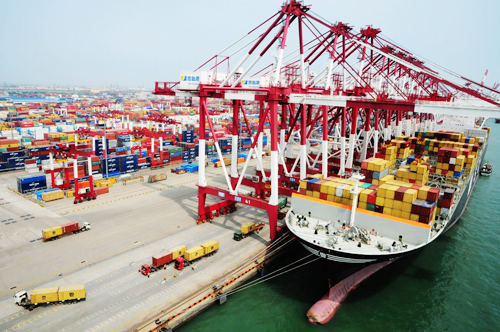 EXPORT CONCERN: A German container ship docks at Qingdao Port, Shandong Province (YU FANGPING)
As China embarks on a more sustainable path of growth, economic rebalancing and structural adjustment will take center stage.
China will boost domestic demand, encourage consumption, expand the proportion of people in middle-income groups, and foster the strategic emerging industries including information technology and new materials, according to the statement. Moreover, efforts will be made to protect the environment, as well as enhance energy conservation and emission reductions.
"The slowdown provided a powerful catalyst for the country to accelerate economic rebalancing and wean off reliance on external demands," said Fan Jianping, chief economist with the State Information Center.
Instead of pumping massive lending and investments like it did in 2009, China should attach greater importance to seeking more sustainable growth and improving people's livelihood, he added.
"For example, the government should strengthen anti-monopoly efforts and foster private investments by opening up more state-controlled sectors," said Fan.
Steps to transform the growth pattern are already underway. The country's 12th Five-Year Plan (2011-15) vowed vigorous efforts to propel consumption, develop the service sector and eliminate polluting and energy-guzzling businesses.
The country in September raised the cut-off point for personal income tax to 3,500 yuan ($553) from 2,000 yuan ($316), a move expected to bolster wage growth and fuel consumption.
Credit Suisse expected China's share of global consumption to increase from 5.2 percent at $1.72 trillion in 2009 to 23.1 percent at $15.94 trillion in 2020, overtaking the United States as the largest consumer market in the world.
In another move, the Ministry of Commerce recently released a five-year blueprint for the service trade sector, pledging generous incentives including favorable tax policies and financial assistance.
Industrial overcapacity is also abating. Earlier this year, the country released plans to eliminate 31.22 million tons of outdated iron-making capacities and 31.22 million tons of cement capacities. By the end of September, the country had fulfilled 90 percent of the target, said Miao Wei, Minister of Industry and Information Technology, at a press conference in November.
Meanwhile, energy-efficient and environment-friendly industries are getting the chance to shine. As it attempts to diversify away from fossil fuel, China has made headway in developing wind and solar energies.
"Economic rebalancing should be a long-term task for China, whatever external environment it faces," said Wang Tao, chief China economist with the UBS.
"The key is to deepen market-oriented reforms and liberalize pricing of several elementary factors such as power, land and interest rates," she said. "It is necessary to allow the markets to play a leading role in promoting rebalancing."
Stephen Roach, Non-Executive Chairman of Morgan Stanley Asia, said China should focus on the creation of service jobs; boost income growth by very aggressive urbanization—moving tens of millions of people each year from the countryside to the cities; and improve the social safety net, especially by investing in social security, private pensions and medical insurance.
Justin Lin Yifu, chief economist and Senior Vice President of the World Bank, said China has the potential to achieve another 20 years of 8-percent growth.
"However, China faces challenges in achieving this objective due to triple imbalances, including relatively weak consumption, income inequality and environment damages," he said.
"To address those concerns, it is imperative for China to remove distortions in the finance, natural resources and services sectors that currently leave too much power and borrowing capacity in the hands of big corporations and rich citizens and very limited access to credit for low- and middle-income Chinese," he said.
Specifically, he said these changes should include propelling development of small and local financial institutions, and encouraging competition in telecommunications, power and financial sectors.
Inflation remains a headache for the economy, though its acuteness is already moderating.
"Upward pressures on consumer prices remain, and we will continue comprehensive measures to prevent inflation from rebounding," said the CEWC statement.