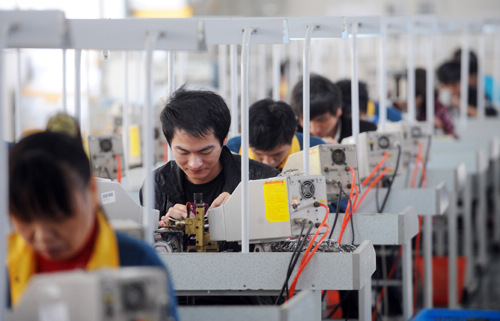 CREDIT SQUEEZE: Employees of Center Group, a private producer of eye glasses in Wenzhou, Zhejiang Province, at work on an assembly line (WANG DINGCHANG)
"The contracting demand is squeezing profitability out of affected industries and dampening business confidence," said Peng Wensheng, chief economist with the China International Capital Corp.
Zheng Xinli, Vice Chairman of the China Center for International Economic Exchanges, said the CEWC has sent out a message that the country will prioritize ensuring stable growth next year.
"Policymakers should coordinate monetary and fiscal policies to benefit economic rebalancing, and lay a solid groundwork for steady growth in the future," he added.
To ensure economic stability, the Central Government vowed to make policies more "targeted, flexible and foresighted."
"The goal is to strike a balance between maintaining growth, deepening economic rebalancing and managing inflation expectations," said the CEWC statement.
"Monetary policies will be fine-tuned according to actual situations and fiscal policies will focus on structural tax reduction and inputs for improvements of people's livelihoods," it added.
China has already taken some selective steps, geared to small business, to prevent a deeper downturn.
The central bank has required commercial banks to bump up lending to cash-starved smaller businesses and the weak agriculture sector. In the first three quarters, small and medium-sized enterprises received 2.26 trillion yuan ($357.03 billion) in new loans, accounting for 68.4 percent of the total.
A more substantial move came on November 30 when the central bank announced to decrease the ratio of deposits that banks must set aside in reserve by 0.5 percentage points for the first time in three years. This was widely seen as a signal for China's policy shift toward targeted easing as inflation jitters give way to concerns over slowing growth.
"The cut is within expectations given liquidity shortages in the banking system," said Lu Ting, a Hong Kong-based economist with Bank of America Merrill Lynch. "It is part of ongoing fine-tuning, which has been taking place since early October."
"Inflation is moderating in the country, leaving room for China to step up selective easing measures and shore up the weakening economy," he said. Lu expected China to cut the ratio another three times before the end of 2012.
Qu Hongbin, chief China economist with the HSBC, also believes that more reserve ratio cuts may follow, but interest rates may remain unchanged until inflation falls below 3 percent.
"Full-fledged monetary easing is not needed because China's exposure to external demand is less than it was during the 2008-09 downturn, and its dependence on exports is much lower," Qu said.
"The underlying strength of the industrial sector remains strong," he said. "Policymakers need to become more flexible and closely watch the unfolding European debt crisis."
Ba Shusong, Deputy Director of the Research Institute of Finance at the Development Research Center of the State Council, also pointed out that it is inappropriate to adopt more aggressive easing policies for fear of reigniting inflation.
"China must learn lessons from the massive credit expansion two years ago that sowed the seeds of acute inflation," he said.
"There is usually a time lag before the monetary adjustments gain traction, so a more direct solution is to take proactive fiscal policies to avoid an economic hard landing," said Liu Tiejun, a senior analyst with the Shanghai-based Haitong Securities Co. Ltd.
Xia Bin, a member of the Monetary Policy Committee of the People's Bank of China and a researcher with the Development Research Center of the State Council, believes the key to stabilizing growth lies in the fiscal front.
"China is positioned to hand out more fiscal stimulus such as tax reductions for smaller businesses and strategic emerging industries, as well as greater efforts to improve the social safety net," he added.
Qu said fiscal policies should play a bigger role in stimulating the economy without sparking inflation. "The country needs to put more investments in affordable housing projects, and improvement of medical and education services," he added.