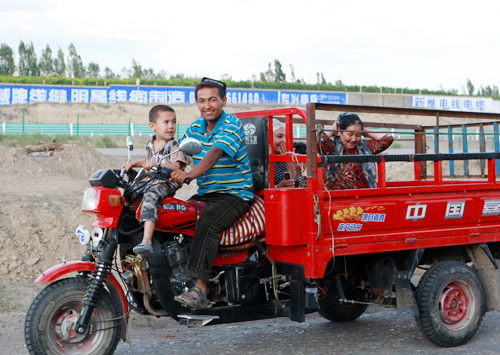 NEW RESIDENTS: Villagers return home on July 1 after checking on the construction of new houses for people relocated to Langan Township in Huocheng County (JIANG XIAOYING)
After supper, Adalate hitches a ride on her neighbor's electric-tricycle to check on the construction of her new house in Langan Township, in Xinjiang Uygur Autonomous Region's Huocheng County. Even at 8 p.m. an excavator is gouging the earth by a tarred road. At the end of the road, a brand new village is waiting for its residents.
"It looks good and I believe we can move in new houses this fall," Adalate beams to her neighbor.
The 41-year-old Uygur is not native to Langan. Last year, a devastating flood destroyed her home village in south Xinjiang. The villagers, in 78 Uygur households and one Kazak household, were relocated to a temporary settlement in Langan in north Xinjiang. On April 16, the local government started to build a permanent settlement in Liangsangong Village for the newcomers. The project is scheduled to complete by August 30.
According to Deng Jie, an official in Langan, the new settlement will have road access, piped water, electricity, a sewage system and a bilingual kindergarten.
Built at a cost of 20 million yuan ($3.08 million), the settlement is designed to accommodate 100 households. Inhabitants will be able to choose either 60-square-meter, 80-square-meter or 100-square-meter houses depending on their preferences and finances, and each household will have a yard of more than 400 square meters. The average cost of constructing each house is 120,000 yuan ($18,460).
But each household only needed to pay 30,000 yuan ($4,615) on average, Deng said. He said a special fund would share 40,000 yuan ($6,154) and the government would cover the remaining cost.
"If a household cannot afford the minimum required payment, the local government will help it get a mortgage loan," Deng said.
"I have paid the required 30,000 yuan and I hope to move in my new home tomorrow," Adalate said.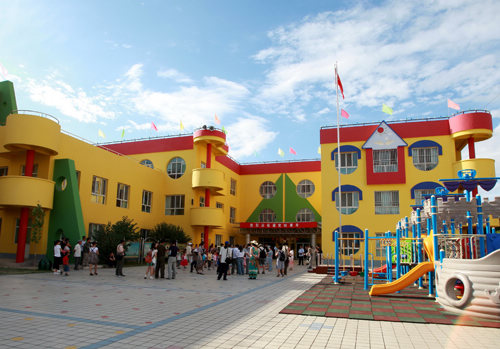 AID PROJECT: A kindergarten in Huocheng County, Ili Kazak Autonomous Prefecture, which is funded by Jiangsu Province (JIANG XIAOYING)
As the mother of an eight year old and a six year old, she said she was especially happy with the quality of the educational and health facilities being constructed in the village. "The place we used to live had no water supply and the road was bad. Here, my children can walk safely to school. We will also have tap water in our home! I wouldn't have dreamed of such amenities before," she said.
The local government has also established a 74-hectare vineyard beside the village to ensure it has a stable source of revenue. Each villager will also be given 0.13 hectares of fallow ground to plow. It is expected the per-capita annual income of the village will reach at least 4,000 yuan ($615.38).