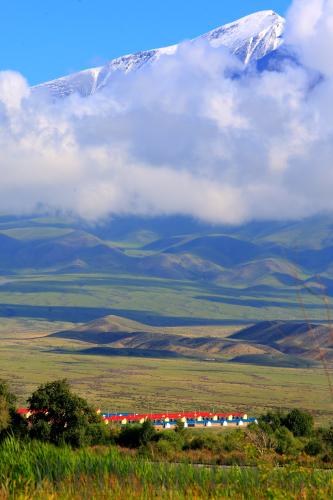 PERMANENT HOMES: A settlement (pictured below) for formerly nomadic households has been built in Wenquan County (JIANG XIAOYING)
Angel Yeast Co. Ltd. is a major yeast enterprise based in central China's Hubei Province. Since June 2004, the company has invested 800 million yuan ($123.08 million) in Yining City, Ili. Its local branch now has an annual production capacity of 20,000 tons of yeast and its annual output value tops 560 million yuan ($86.15 million).
"Thanks to the Central Government's western development program, enterprises investing in Yining can enjoy preferential tax treatments for up to 10 years, and our enterprise has been able to develop in Xinjiang," said Zheng Nian, General Manager of Angel Yeast Co. Ltd.
The city's proximity to Horgos Port allows the company to transport its products directly to central Asian countries.
Alashankou Port located on the China-Kazakhstan border in Bortala Mongol Autonomous Prefecture is accessible by railways, highways and pipelines. In 2010 the volume of cargo transportation via the Alashankou Port reached 20.74 million tons, worth $17.128 billion, an increase of 22.8 percent over 2009. Xinjiang's first comprehensive bonded zone is going to be built in the vicinity of the port.
Livelihood improvement
The Xinjiang Uygur Autonomous Regional Government has been making an enormous effort to improve living conditions of local people. In 2010, it spent 119.8 billion yuan ($18.43 billion), about 71 percent of its budget, on livelihood programs.
The regional government put livelihood improvement on the top of its 2011 agenda. According to the regional development and reform commission, in 2010 the government built 85,000 houses for low-income households and an additional 300,000 units of low-income housing will be built between 2011 and 2015.
The regional government is encouraging nomadic households to settle in villages near their pastures. It plans to provide permanent homes, as well as schools, medical services, water supplies and electricity, for the region's 85,600 nomadic households.
"The traditional nomadic method of moving from one pasture to another is low in cost, but much higher in risk," said Wang Chengcai, an official in Ili.
Wang explained the herdsmen's increasingly large herds are a threat to the ecological balance.
"Children and the elderly of nomadic households cannot receive educational and medical services," he said.
According to Wang, after nomadic households settle down, the young and middle-aged are still able to take the animals out to better grasslands in winter while children and the elderly will be able to stay in the settlement, taking care of weaker animals.
"This is a good way to combine the people's traditional lifestyle and current needs," Wang said.
The regional government is also working to establish a social security system, which, by 2012, will cover all urban and rural areas in the region. Subsistence allowances for low-income families and students will also be increased.
In 2010, the regional government helped 516,800 people from various ethnic groups find job while 830,000 people attended training courses organized by local authorities at all levels. The regional development and reform commission said in 2011 the government would expand the range of available training courses and create more job opportunities for well-educated young people.
The terrorist threat
Xinjiang is China's frontline against terrorism. In July, a number of deadly attacks occurred in Xinjiang.
On July 31, three people died from a blast in Kashgar City and more than 10 pedestrians and police officers were injured in an eruption of violence. The incident happened after at least seven people were killed by rioters on July 30 in the same city. Earlier, rioters attacked a police station and killed four people in Hotan on July 18.
Police investigations show the attacks were engineered by terrorist groups.
Nur Bekri, Chairman of the Xinjiang Uygur Autonomous Regional Government, said the battle against acts of terrorism will be tough and might take years to win.
"People in Xinjiang should stay vigilant and recognize terrorists and extremists are the common enemies of all ethnic groups," said Zhang Chunxian, Secretary of the Xinjiang Regional Committee of the Communist Party of China.
Both Nur Bekri and Zhang said nothing would stop Xinjiang heading toward development and prosperity, which will be shared by the region's people.