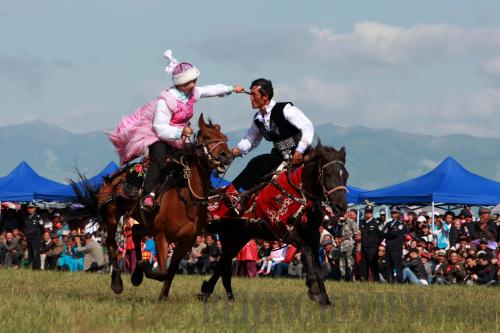 LOVE SHOW: Kazak riders perform the traditional "Girls Chase" at the opening ceremony of the Second National Equestrian Endurance, Racing and Speed Competition on June 28 (JIANG XIAOYING)
The benefits of Xinjiang's rapid development is evident in Terak Village, Tekas Darga County. Located in the Ili Kazak Autonomous Prefecture, the village is home to 145 Han and Kazak households, 675 people in total, who make their living cultivating about 233.45 hectares of land.
Some households in the village started to plant fruit trees in 1995 and their efforts have been rewarded with fruits like apples and apricots fetching a good price. As a result, more households have begun to plant fruit trees and a 1-hectare orchard can produce 45 to 52.5 tons of apples, which bring in 105,000 yuan to 120,000 yuan ($16,155 to $18,465) in annual earnings.
About 80 percent of the village's apple is sold to Central Asian countries. In 2010 the villagers' total income topped 1.45 million yuan ($223,077).
"We always say a 1-hectare orchard can bring us more income than a 10-hectare grain field," said Yu Xihe, the village head. "Now every family's house is bigger than 100 square meters, and many households have bought cars."
Villagers are looking to cultivate large tracts of nearby uncultivated land and increase the area of cultivation. "By 2013, we hope to raise our per-capita orchard area from the current 0.33 hectares to 1.6 hectares. And every hectare of orchard should bring us at least 20,000 yuan (about $1,350)," Yu said.
The local government is training the villagers in cultivation techniques and a storehouse with a capacity of 1,500 tons has been built in the village.
Racing to prosperity
Due to its vast grassland and the traditional lifestyle of indigenous ethnic groups, Xinjiang is a region with a well-developed livestock industry. In recent years, the region has made an effort to increase the productivity and profitability of its centuries-old livestock industry by improving breeds, and adopting more modern stock-rearing techniques.
In the Kara Su Township, herdsmen have begun breeding local Ili horses with adult British purebred racehorses, which are sold for between 500,000 yuan to 600,000 yuan ($77,000-$92,000). The head of the township, Erkin, said an ordinary Ili horse costs only about 7,000 yuan to 8,000 yuan ($1,077 to $1,231), but a newborn racing crossbreed foal can be sold for 30,000 yuan ($4,615). The local government encourages local herdsmen to improve their stock and pays 40 percent of the crossbreeding fees for herdsman with good quality mares.
"In this way, we expect to double local herdsmen's income by focusing on quality instead of quantity," said Erkin.
Cross-border trade
As it borders eight countries, Xinjiang is able to boost foreign trade.
Horgos Port located on the China-Kazakhstan border is an important land crossing point between China and Eurasian states. According to Liu Jianlin, Deputy Director of the Horgos Port Management Committee, 90 percent of cargo transportation between China and Kazakhstan passes through Xinjiang by railways, highways and pipelines. In 2010 a total of 3.085 million tons of cargo worth $3 billion were transported into and out of China through Horgos Port.
China and Kazakhstan are both members of the Shanghai Cooperation Organization (SCO). Bilateral trade has developed rapidly in recent years. The trade volume between the two countries reached $20.4 billion in 2010 and is expected to hit $40 billion in 2015.
The two governments will also open a model cooperation center, which will straddle the Sino-Kazakh border. The center will serve as a free trade zone concentrating on processing trade, manufacturing, transportation, financial services and tourism.
According to Liu, all four of China's major state-owned commercial banks will have branches on the Chinese side of the center. "We expect to realize free convertibility between the Chinese currency renminbi, U.S. dollar and Kazak tenge in the center," he said.
Liu went on to say any person and vehicle being issued a legal certificate would be able to stay in the center for 30 days without a visa. The daily duty-free shopping limit for every visitor in the center will be 30,000 yuan ($4,615), making it attractive to business people. Many Chinese investors have started building factories, hotels and restaurants inside the center.