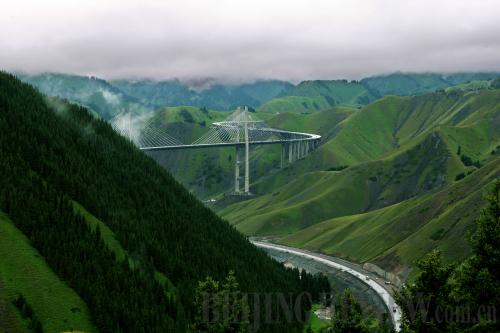 NEW INFRASTRUCTURE: The Guozigou (Fruit Gully) super-large bridge is a landmark development project in Bortala Mongol Autonomous Prefecture (JIANG XIAOYING)
In China, most people are familiar with a song created in the early 1950s saying: Our Xinjiang is a beautiful place. Rich pastures on both sides of the Tianshan Mountains… Today Xinjiang Uygur Autonomous Region in northwest China is not only home to outstanding scenery, the 1.6-million-square-km region has also seen rapid economic growth, and its people are benefiting from well-developed infrastructure and burgeoning foreign trade.
Booming economy
In the 1990s, Xinjiang's economic growth lagged behind most provinces, municipalities and autonomous regions in China. Without sea ports and with few developed industries, Xinjiang had long been less developed. In 1999, the Central Government launched the western development program. The program covers 12 provinces, municipalities and autonomous regions in west China including Xinjiang. A number of policies aimed at accelerating the pace of Xinjiang's economic development have been introduced. The opening of China's border ports to Central Asian neighbors is one policy to make the region more accessible.
In March 2010, the Central Government started a new program for aiding Xinjiang by partnering 19 of the country's better-developed provinces, municipalities and cities with 19 of Xinjiang's prefectures and cities. The aid program involves capital and technological assistance, exchange of government officials and personnel training courses. Two months later the Central Government held a work conference, stressing the need for greater efforts to boost Xinjiang's economic development.
Over the past year, Xinjiang's economic achievement has been tremendous. According to Zhang Shaoyun, Deputy Director of the Xinjiang Regional Development and Reform Commission, the region's GDP in 2010 reached 541.88 billion yuan ($83.37 billion), an increase of 10.6 percent over 2009. Its per-capita GDP was 24,978 yuan ($3,842.77) last year, 9.4 percent higher than the year before.
"By optimizing the region's agricultural structure, we are improving Xinjiang's productivity," Zhang said.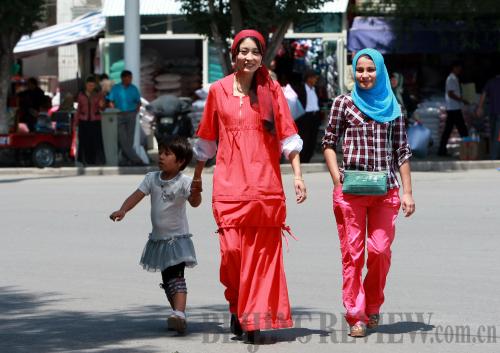 LEISURELY RHYTHM: Uygurs take a stroll in Yining City, capital of Ili Kazak Autonomous Prefecture, on July 2 (JIANG XIAOYING)
The region now has well-developed grain, cotton, forestry, fruit, and stockbreeding industries. In 2010 Xinjiang harvested 11.707 million tons of grain, not only guaranteeing its food security, but also making the region an important grain producer in the country.
Xinjiang also has about 1.22 million hectares of orchards, which produced 6.255 million tons of fruits last year.