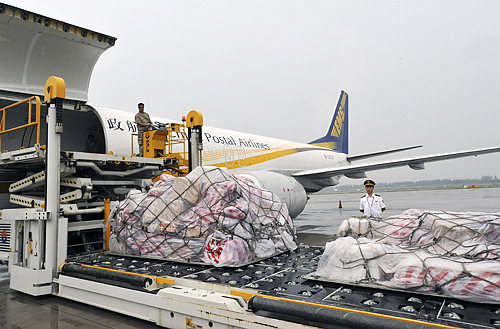 OVERNIGHT DELIVERY: Qingdao Airport of Shandong Province has been included in a new cargo air route run by China Postal Airlines, enabling local EMS mail to arrive at any major city across China the next morning (CUI PENGSEN)
With the rapid development of the express delivery industry in recent years, Chinese urbanites' impressions of deliverymen have been transformed. Gone are the typical images of dark green uniformed men toting large boxes, replaced now by young, casually dressed couriers on electric bikes laden with packages.
While express services become a daily necessity with the popularity of online-shopping, the country is gearing up to consolidate the fragmented and crowded industry. China will strive to support mergers and acquisitions between delivery companies by offering policy incentives in taxation and land use, said a guideline of the State Post Bureau of China (SPB) posted on the website on June 17. More express firms will be nurtured into larger ones capable of competing against international delivery service giants like UPS and DHL and with annual revenues exceeding 10 billion yuan ($1.54 billion), said the guideline.
Although China's express delivery industry has seen rapid growth since 2005, it is far from strong compared with advanced countries, like the United States and Japan, regarding service quality, service capacity and internal management, said Ma Junsheng, Director General of the SPB.
Soaring business
In 2010, the number of express deliveries in China totaled 2.3 billion, a rise of 26 percent from 2009, with revenues hitting 57.5 billion yuan ($8.85 billion), a year-on-year increase of 20 percent, according to figures from the SPB.
At the end of 2010, the industry had 542,000 employees, up 35 percent from the previous year, said the SPB. The express delivery network has covered 90 percent of municipalities and provincial capitals and 80 percent of provincial-administered cities.
Express firms are mushrooming across the country as the industry picks up momentum thanks to a significant e-commerce boom.
Online retail sales almost doubled in 2010 from a year earlier to 513.1 billion yuan ($78.9 billion), said a report released by China e-Business Research Center, headquartered in Hangzhou, capital of southeast China's Zhejiang Province.
The figure provided by China Express Association showed that the mail generated by e-commerce accounted for nearly half of the country's daily express delivery last year.
After the Shanghai-based Yuantong Express became the delivery contractor for China's largest C2C marketplace Taobao.com in 2006, its daily mail delivery increased from 2,000 to 280,000 over the course of three years, said Xu Jianguo, former vice president of Yuantong Express, one of China's top four private express carriers.
The express delivery industry in China is composed mainly of foreign express giants as well as the SPB's EMS (Worldwide Express Mail Service) and locally funded private express companies. Currently, domestic companies take up close to 70 percent of the mainland's express delivery market, while the four international express giants, including FedEx and UPS of the United States, DHL of Germany and TNT of the Netherlands, dominate 80 percent of the express delivery service between China and the rest of the world.
Growing pains
The lack of delivery services and delays last winter are still fresh in the minds of most online shoppers. Poor weather and a migration of couriers rushing home for the Spring Festival (February 2-8) left express firms in desperate need of personnel to make deliveries.
This setback showed the industry's incapacity compared with the booming e-commerce, said Xu Yong, President of Cecss.com, an express consulting website based in Shanghai.