Social trends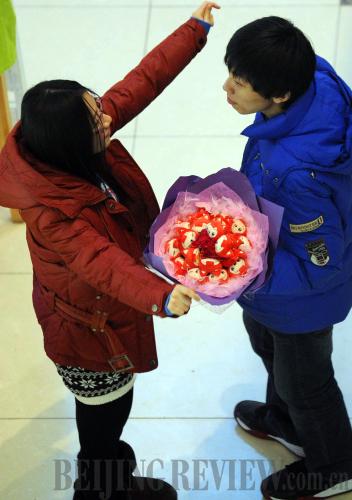 MODERN LOVE: A man sends a bunch of roses to his girlfriend in a shop in Beijing on February 14. Many 20 somethings and 30 somethings in China make friends and communicate with each other on the Internet (GONG LEI) 
Changing social attitudes toward dating and family have boosted the online dating market, said Tian. He cited such social trends as marrying late and a climbing divorce rate as examples.
Chinese people are getting married later in life. A report released by Jiayuan.com on this year's Valentine's Day showed people in the 20-24 age range accounted for 47 percent of total people married in 2005, but the proportion fell to 37 percent in 2009. During the same period, the fraction of newlyweds aged above 40 years rose from 3.9 percent to 12.2 percent.
As a result, singles in their thirties are the majority of clients of dating websites.
"It is much more difficult for people to find their ideal mates these days because they seek both spiritual happiness and material wealth," Tian said. "Many people are infatuated with people having luxury cars and big houses, and they also wish to pair up with someone romantic and adorable."
Moreover, when it comes to desirable qualities of their future spouses, it seems that men are from Mars and women are from Venus.
About 20 percent of women think the best marriage age is 28-30, yet only 8 percent of men like to marry women aged above 27 years, said Wang Zhiguo, a researcher on dating and marriage affairs at Baihe.com, quoting data collected during the joint survey of Baihe.com and the All-China Women's Federation.
More than 70 percent of surveyed women think men should own houses before getting married, whereas 48.2 percent of male respondents believe men should be
homeowners before getting married, said Wang,
"Some women's expectations are not realistic," said Wang. "As housing prices have rocketed to a very high level, many young men cannot afford to buy houses."
Wang said some women prefer to marry civil servants, yet as some have changed their minds after learning civil service jobs are not as well-paid and low-stressed as they thought.
Such mismatches between women and men make it difficult for them to pair up, Wang said.
Wang also identified a number of other social factors triggering a sharp increase of the number of people remaining single.
Today, people are getting better educated. It is common for young people to stay in school until 28 or 29 years old to obtain advanced academic degrees. After they graduate, they settle into a job and begin to think about marriage.
Increased population mobility also leads to marrying late. For instance, Beijing has an influx of migrants from other parts of the country. These people have to cope with jobs and other pressures before they have time to find spouses, so they tend to marry late.
Statistics from the Ministry of Civil Affairs show in 2010, 1.96 million couples got divorced whereas 1.2 million couples got married. China has seen divorce rates rising in the past three decades.
Nowadays people value the quality of marriage as well as the duration, and believe that a marriage does not have to last for a lifetime, Tian said, adding divorced people are major users of paid services offered by dating websites.