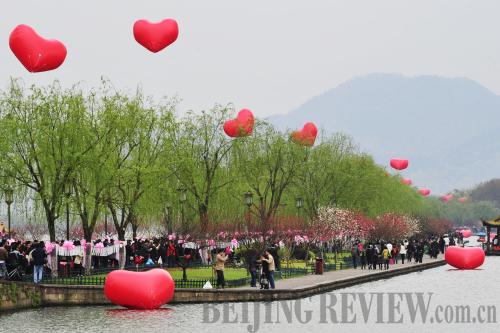 A BIG DATE: A matchmaking party organized by a dating website attracts nearly 10,000 participants in Hangzhou, Zhejiang Province, on March 19 (XINHUA) 
Amanda, a 35-year-old single office worker living in Beijing, is looking for a soul mate to form a happy family. She is searching for him on Baihe.com, a dating website.
Today, rather than enlisting the service of traditional go-betweens, many singles in China look for their other half in a decidedly more modern fashion—through dating websites.
In her online profile, Amanda looks graceful and stylish in a black dress with a short white sweater. She describes herself as passionate and artistic, yet rational and objective.
She expects her Mr. Right to be someone aged between 36 and 45. He should be responsible, hardworking, mature, understanding and well-educated, have at least an apartment and make no less than 20,000 yuan ($3,074) per month.
A nationwide survey on dating and marriage was jointly conducted by the All-China Women's Federation and Baihe.com in 2010. The results released at the end of last year show there are 180 million single people in China and tens of millions of them are subscribers to the three largest dating websites in the country.
Baihe.com, with more than 26 million subscribers, is one of the three websites. The other two, Jiayuan.com and Zhenai.com, have more than 32 million and 26 million subscribers, respectively.
These websites' memberships and revenue are growing at a staggering speed.
In 2010, Baihe.com earned more than 100 million yuan ($15.4 million) and added more than 6 million new subscribers. "Both membership and revenue grew more than 100 percent over the previous year, said Tian Fanjiang, CEO of Baihe.com.
Gong Haiyan, CEO of Jiayuan.com, said it took the website three and half years to acquire the first 3 million subscribers, but just two months to register the newest 3 million.
Zhenai.com's statistics show it has helped more than 2 million people find their loved ones.
Gong said at Jiayuan.com, everyday, many clients change their status from looking for friends to dating or being in love.
A growing market
But Zhu Li, founder of Juedui100.com, a smaller dating website, said low income from paid services and large spending on advertisements made it difficult for dating websites to make a big profit.
Two years ago, almost all online information services provided by dating websites were free.
"As the industry was fledging, its priority was to expand membership. If you charged a fee for services while others did not, people would eschew you," Tian said.
But running a website costs money. In the last five years, Baihe.com invested about 10 million yuan (about $1.54 million) every year on equipment, personnel and promotion, said Tian.
In the last two years, many dating websites began to charge a fee for services. Checking an e-mail usually costs 2 yuan (about $0.3). One also needs to pay for sending e-mails or virtual gifts to other subscribers and for online chatting.
One-off payment for package services at regular intervals may turn out to be more economical. For instance, one can pay a lump sum fee every month, every six months or 12 months for checking e-mails, which usually amounts to hundreds of yuan.
Subscribers of dating websites may also be charged a membership fee to obtain certain services. They can opt into different categories by paying different amounts in fees.
Not all subscribers are active. Some registered an account, and then became dormant; some revisited the websites, but no longer paid for any services, Tian said.
In 2010, it was estimated more than 3 million people paid for services from dating websites, but the percentage of subscribers of paid services is still low, said Tian.
Mu Yan, Vice President of Baihe.com, said only about 5-6 percent of subscribers of Baihe.com were paying for online dating services.
As for Jiayuan.com, Gong said its revenue was slightly higher than expenditure.
In addition to online matchmaking services, many websites also make money by providing offline services.
Baihe.com has thousands of VIP subscribers, and every VIP subscriber in large cities such as Beijing pays 10,000 yuan-20,000 yuan ($1,540-$3,077) per year for tailored offline services, Tian said. The website also offers cheaper offline services to ordinary members.
Earnings from offline services accounted for about one fifth of the total revenue of Baihe.com, said Mu.
Although dating websites' revenue and profit are still not as large as its membership promises, Tian believes they will grow rapidly.
"Currently, average spending of a subscriber on Baihe.com's services is only a few dozen dollars, which is very affordable and only equivalent to the cost of a decent meal," Tian said. So he expects people will spend more on dating services in the future.
Tian predicted in 2011, the revenue of Baihe.com will grow at a speed of 200-300 percent, and its membership will also double.
While big dating websites grow robustly, many smaller dating websites are struggling. In 2005, there were more than 100 dating websites in China, but now, only a few remained operational, Tian said.
Dating websites face competition from within the industry as well as potential competition from fast-growing social networking websites. To survive competition, some dating websites have extended their reach to downstream markets by providing wedding and childcare services, Mu said.