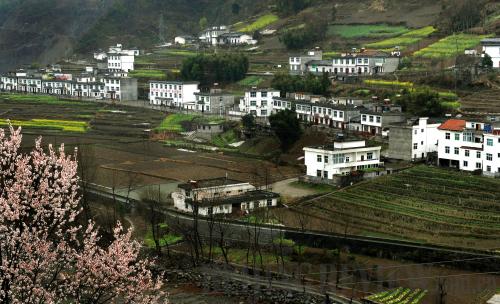 NEW BUILDINGS: Houses in Lan'gao County, Shaanxi Province, show the brand new look of a county that is in the process of rapid urbanization (TAO MING) 
Qian brought up the idea urbanization should be a two-way process. "We should not only attract rural residents to cities, but also make the countryside attractive to urban residents," said Qian. "Only in this way can it be a healthy urbanization."
This strategy was also stressed in Premier Wen's report.
"We need to fully respect the right of farmers to choose independently whether to seek jobs in cities or stay in their home villages, and genuinely protect their legitimate rights and interests concerning land they contract to work and the land on which their homes sit. Urbanization and agricultural modernization must be mutually reinforcing," Wen said.
Land reform
"With more rural people moving to cities, a lot of houses in rural areas are left empty. Worse still, some rural land has been appropriated by the government for non-farming purposes without paying fair compensation to farmers," said Wu Yan, a CPPCC National Committee member and President of the People's Insurance Ltd. Co.
Under China's laws, rural land is divided into farmland and land for construction use. Farmland is not supposed to be used for commercial purposes. That is intended to protect farmland and to guarantee stable production of food. But many local governments and real estate developers have not used rural land for the public interest, and many villages have been turned into industrial hubs.
"That is illegal and against the country's policy," said Li Chenggui, a CPPCC National Committee member and Deputy Director of the Beijing Municipal Commission of Rural Affairs. "It could be attributed to irrational urbanization, but scientific urban planning could save farmland or use it more efficiently."
"The Central Government has launched reforms regarding the existing laws and regulations," said Li.
With a population of 32 million, Chongqing Municipality in southwest China is reportedly the largest city in the world. But, 95 percent of the area under its jurisdiction is rural, with decades-old wood houses, some still with simple clapboard roofs, dotting the banks of the Yangtze and Jialing rivers running through Chongqing.
On December 4, 2008, China's first rural land exchange was established in Chongqing.
A pilot program was launched by the Chongqing Municipal Government in August 2010 to allow farmers to choose whether to keep the farmland that they signed contracts with the government to use, or exchange their contracted land for urban residencies that give them access to employment opportunities, medical care and education enjoyed by city dwellers.
The swap operates as a market platform for the trading of land-use rights or land quotas for construction purposes. An individual villager's housing land is assessed by the Chongqing Land Resource and Real Estate Management Bureau to calculate an equivalent amount of the arable land, namely the land quota they can exchange in the market. According to the Land Management Law, developers are responsible for offsetting the amount of construction land they use with the same amount of arable land.
In five months since the program has been in operation, 1.45 million Chongqing farmers reportedly registered as urban residents.
"The reforms initiated by Chongqing may represent a new direction for China's next 30 years of reform," said Li.
Cai also agrees with Li's views.
"Chongqing is the only municipality directly administered by the Central Government in west China. The Central Government grants it a unique platform for implementing reform," he said. "Building up the economy of regions along the upper reaches of the Yangtze River is very important and the most important thing is to do a good job implementing the urban-rural coordinated development plan."
"It has proven a win-win situation," said Li, who has been observing the reform in Chongqing. "Interestingly, it is not just people who are moving, but industries and enterprises are being relocated. With more people leaving the countryside, more local enterprises and factories are set up in the places where the farmers originally lived and their rapid growth has attracted investors from other provinces and regions."