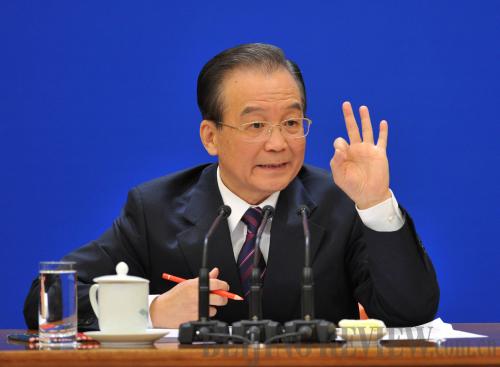 FACE TO FACE: Premier Wen Jiabao answers questions at the press conference on March 14 (HUANG JINGWEN)
On March 14, Premier Wen Jiabao gave a press conference to journalists covering the annual sessions of the National People's Congress, China's top legislature, and the National Committee of the Chinese People's Political Consultative Conference, the top advisory body, in Beijing. Wen elaborated on the Chinese Government's stance on a number of hot social and economic issues. Excerpts follow:
Political restructuring
I believe reform is a constant theme of history. Political restructuring and economic restructuring must be coordinated. Nothing in this world stays static, and it is only with reform that our Party and country will enjoy continuous vigor and vitality.
Political restructuring offers a guarantee for our efforts in economic restructuring. Without political restructuring, economic restructuring cannot succeed, and the achievements we have made in economic restructuring may well be lost.
My view is that at present, corruption poses our biggest danger. Institutional reform is essential to tackle corruption at its roots. The hearts of the people are the life of the country. If we are to address people's grievances and meet their wishes, we must enable people to criticize and supervise the government.
Fairness and justice are the defining features of socialism. They form the foundation of social stability. We must promote fairness in income distribution, and gradually narrow the widening income gap. At the same time, we should also promote fairness in the distribution of educational, medical and health services, so that all people will be able to share the fruits of China's reform and opening up.
If we are to achieve all these above-mentioned goals, we must pursue economic restructuring and political restructuring.
We must ensure that each and everyone will have an equal opportunity of receiving education, and we must give full play to people's independent thinking and creativity. It is only when the people feel they are fully motivated that we will be able to put our reform and development endeavors on a solid footing. This sense captures the essence of democracy.
People's deputies are now directly elected at the county level and in cities without districts. Villagers can now exercise self-administration in villages. And now we have indirect elections at or above the city level and at the central authority level. Moreover, we have multi-candidate elections for members of the central committees in the central authorities.
I believe we must pursue a gradual approach in this process. We also believe that once the people are capable of running village affairs well, they will also be capable of moving from running village affairs to running the affairs of a township and a county. That will be a gradual process.
It is by no means easy to pursue political restructuring in such a big country with 1.3 billion people. It requires a stable and harmonious social environment. And it needs to be moved forward in an orderly way under the leadership of the Party.
'Development paradigm'
After more than 30 years of reform and opening up, China has achieved rapid development in economic and social fields, and the lives of the Chinese people have been remarkably improved. These achievements have been widely recognized. I believe the Chinese people have also seen that the Chinese Government is taking serious steps to address the challenges and problems in China's economic and social development. China's economy has now become the second largest in the world. But at the same time, we are also fully aware that China remains a developing country with a large population, a weak economic foundation, and uneven development.
We have embarked on the development path that fits China's national conditions. The features of this development path are as follows: First, we will focus on economic construction and vigorously promote economic development and social progress; second, we will continue to put people's interests first, and strive for comprehensive, coordinated and sustainable development; third, we will continue to promote social fairness and justice, and maintain social stability and harmony; and fourth, we will protect the democratic rights of the people, promote their all-around development, and give further play to the initiative and creativity of the people.
China is still exploring the best ways of reform and development. We have never seen our own development path can serve as a paradigm for other countries.
Inflation
I believe that the inflation we are currently experiencing is part of a wider global issue. Let's take a look at the international environment in this respect. Some countries have pursued a quantitative easing monetary policy and that has caused drastic fluctuations in the exchange rates of some major currencies and the global commodity prices.
This has not merely affected one place or region in the world. Actually, we have seen an around 2-percent inflation rate in European countries. In the past few months, global grain prices have risen by 15 percent, and the political situation in some North African countries and West Asian countries have driven up global oil prices, and the prices have hit over $100 per barrel.
The imported inflation has had a big impact on China and it is not an easy factor to control.
At the same time, we have also witnessed structural inflation in China due to rising labor costs and rising prices of primary goods.
That's why the government has given top priority to curbing inflation for its macroeconomic control this year.
I have explained the measures that we will adopt to control inflation and manage inflation expectations in great detail in my government work report, so I will not repeat myself here.
I just want to emphasize that the government has the confidence that it will be able to anchor inflation expectations.
In November last year, China's consumer price index rose to 5.1 percent. With hard effort, we managed to bring it down to 4.6 percent the next month, that is December last year.
We still face a difficult situation in the first half of this year. I think you are well aware of the carryover effects on the CPI.
In January this year, the CPI rose to 4.9 percent, and stayed at the same level in February. But there was a carryover effect of 3.7 percent in February.
Therefore, we must not take this issue lightly.
We have taken the following measures to manage inflation expectations. First, we will continue to develop production, in particular, agricultural production, to ensure sufficient supply. Second, we will improve the distribution system. In particular, we will enhance the weak links in agricultural product distribution. Third, we will make use of economic and legal instruments to manage the market and maintain a good market order.
We will continue to take persistent efforts to manage inflation expectations.
Our measures to bring down rising housing prices are three fold.
First, we must mop up excess liquidity. That is actually important for both the control of housing prices and of consumer prices, because that will help us eliminate the monetary conditions for surging consumer and housing prices.
Second, we will make use of fiscal, taxation and financial instruments to adjust market demands.
Third, we must intensify the responsibility of the local governments in these aspects. Local governments must assume their due responsibilities for controlling consumer and housing prices. That includes: provincial governors must take responsibility for the supply of staple food, and mayors will be responsible for the supply of vegetables. And in terms of bringing down surging housing prices, it is local governments that will assume general responsibility.
RMB exchange rate
We will continue to pursue our reform of the RMB exchange rate regime. We have in fact taken three major steps in pushing forward this reform since 1994.