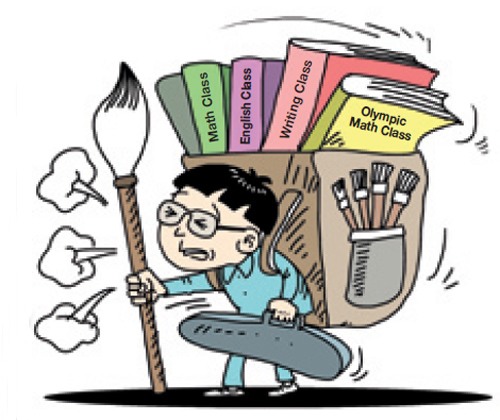 (CFP)
The new generation of Chinese parents with teenage children, who themselves grew up in strict household similar to Chua's, are increasingly moving away from the traditional model and toward a more relaxed American style, especially the educated urbanite families. They tend to believe Western-style parenting featuring respecting children's individuality, encouraging them to pursue their true passions, supporting their choices, and providing positive reinforcement and a nurturing environment, is more conducive to children's development in the long run.
"Education is a life-long process whose success or failure cannot be judged by short-term results. I firmly believe that people without a happy childhood are almost unlikely to have a happy life," said Yin Jianli, a former middle school teacher and author of a bestselling parenting guidebook A Good Mother Can Do More. Yin's book, her memoir of raising her only daughter who skipped grades twice and was admitted by two prestigious Chinese universities at the age of 16, regards children's happiness a vital measurement for successful parenting.
"If children often feel nervous, disrespected or restrained too much around you, they cannot be happy. If they feel unhappy most of the time, they could suffer from some psychological problems," Yin wrote.
Sun Ruixue, a child psychologist, is one of the first Chinese educators to introduce the Montessori method, an educating approach for children based on the research of Italian educator Maria Montessori, to China. She told Guangzhou-based New Express newspaper the tiger-mother approach might strangle children's creativity. "Children living in fear and threats will have anger and complaints filling their minds and be less creative than their peers," said Sun.
Bie Dunrong, a professor at the School of Education of Huazhong University of Science and Technology, said the tiger-mother approach is understandable, but should not become a successful model of parenting. He told Wuhan Morning Post Chua's parenting represents China's traditional educational philosophies and concepts and is unsuitable for modern society, as an overbearing emphasis on schoolwork and perfect grades cannot produce creative minds.
But Chua is not without followers in China. Hu Zihong, a 42-year-old father of two sons in Xingtai, Hebei Province, said he was humbled by the strict discipline imposed on Chua's daughters. "That reminds me of famous Chinese pianists Fu Cong and Lang Lang. I believe if their parents had allowed them to play as much as they wanted when they were young, they would not have become highly acclaimed pianists they are today," Hu told New Express.
Still envied
While U.S. parents and education officials lament the fact American students lag behind their international peers in the latest PISA test, the Chinese public is increasingly dissatisfied with the country's education system, which has long been based on rote learning and memorization.
More importantly, the public has long been frustrated by China's lack of universities that can compete with the finest in the world. China is not represented in the list of the top 10 universities in the latest rankings of Asian schools. In the 2010 rankings compiled by London-based Quacquarelli Symonds Network, the highest-ranking institutions from the Chinese mainland were Peking University at No.12 and Tsinghua University at No.16, clearly outperformed by their counterparts in China's Hong Kong, Japan, Singapore and South Korea.
Chinese education authorities are looking to the West for inspiration in creating a critical thinking-friendly environment, especially the United States, which has garnered 70 percent of Nobel Prizes with only 5 percent of the world's total population.
For a long time, the masses in China have been complaining that the higher education has produced too many graduates that are ill-prepared for an independent professional and personal life. There are many reports on fresh graduates who couldn't form a practical career goal in a highly competitive job-hunting market and switch jobs too often and employers who say they are appalled by the clumsiness and immature state of fresh graduates they hire.
In recent years, among the nouveau-rich Chinese urban families who are immigrating in droves to the United States, Canada, Australia and other Western countries, many reportedly do so in hopes of providing their children with a more relaxed education environment an important factor behind their departure.
Wu Jiachuan, a 42-year-old real estate entrepreneur and father of a daughter in middle school, has decided to immigrate to a Western country partly for better education of his daughter.
"Without teaching students self-esteem and integrity, teachers only force students to study what's written in the textbooks. My daughter is not particularly intelligent. As parents, we just want her to be happy instead of suffering from enormous pressure," Wu told Beijing-based International Herald Leader newspaper.