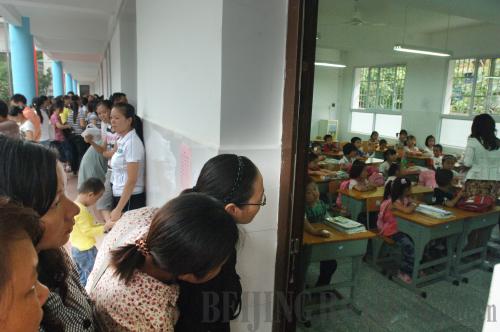 PARENT STUDENTS: Many parents accompanied children to school on September 5, 2010, the first day of school after summer vacation (CFP)
Meng Yijun, an accountant at a PR firm in Beijing, has a 10-year-old daughter. Although she was born in 1974, the Year of the Tiger according to Chinese astrology, Meng said she is totally different from "tiger mother" Amy Chua.
Chua is a Yale law professor. Her book on harsh way of parenting, Battle Hymn of the Tiger Mother, has become a hot topic of discussion in China after its Chinese version hit bookshelves.
Meng said the essence of Chinese education is to teach children how to be good people, not successful people. She believes parents should take the lead and be role models for the children. "We never made decisions for my daughter without discussing them with her. Neither did we pressure her or set a line for exam marks."
Her daughter, whose last name is Xuxu, is also learning violin.
"But I didn't ask her to learn, it was her own choice," said Meng. "We have played violin music since she was born. So, she has an interest in that."
Meng regards interest as the most important thing in learning; otherwise children will equate learning with unhappiness.
Although Wei Li, a hotel manager in Beijing, shares the same ideas as Meng, she said she was forced to go in another direction. Wei didn't arrange any extra lessons for her 12-year-old son before primary school because she thinks children should grow up in a more delightful way. After the son entered primary school and took his first exam, Wei saw the marks of her son were lower than average. "The average mark is 98 for both Chinese and mathematics, but my son only got 97 for the Chinese and 96 for the mathematics," said Wei. "My husband and I then realized that we should do something about it."
Wei then arranged extra classes for her son on weekends despite his protests.
Yu Chenye, a manager in a bioengineering company in Beijing and mother of a child the same age as Wei's, is the opposite.
"I was a tiger mother before, I am no longer like that now," said Yu.
"I felt I was like an ice cream ball and everybody was taking spoonfuls of me, " said Yu's son Cen Cheng, recalling the days of control by this tiger mother. "I was always told to do something useful, which did nothing but prepare me for exams."
Soon, Cen found he couldn't concentrate easily. Yu took him to the hospital but the physical test showed everything was OK. They then turned to a psychiatrist who said it was stress-related.
"The psychiatrist said many children now are suffering high pressure from both school and family and some even have got physiological problems," said Yu. "We used to be very strict on him, but we don't want him to be an unhappy kid with high marks."
Yu then cancelled many extra classes for her son, and his stress receded.
Heavy homework is another burden for kids, especially those in higher grades, even though the Ministry of Education issued a notice in 2000 on reducing homework for students. As of the 1980s, the concept "all-round education" was raised to cultivate more comprehensive and creative students instead of just exam-oriented ones, but it is very hard to put the idea into practice.
Many parents mistook quality education as another way to get higher marks on exams.
"We drove the children to take extra classes just to prepare better for the exams and I don't actually know what the word quality means. We've taken all this time from the children and am so tired of it," said Yu Xia, a court worker in Beijing who drives 90 minutes to take her daughter for piano classes every Sunday. "But we have no choice as many other parents do the same thing. If we don't do it, I am afraid my kid will lag behind."
"I don't expect her to become a piano master, so I am not as harsh on her as some parents are," said Yu.
Yu mentioned Hu Dingqi, a piano prodigy who has many international awards, got about 400 slaps in three years from her father. "But I am also very strict on her, and the children have no other choice except for accepting what parents have arranged for them."
In 2009, a book titled A Good Mother Can Do More drew great attention from parents and has long been among the top three bestsellers in bookstores.
The author of the book, Yin Jianli, used to be a teacher and regards home reading as the key to exploring a child's potential talents.
She said many books on education now aim at cultivating elites, such as how to get high marks on exams and enter key schools. Few books are delivering generally applied education ideas.
In her book, Yin encourages parents to tolerate children to make mistakes. She even tells the story of encouraging her daughter to take the 17-hour train ride from Yantai, a city in Shandong Province, to Beijing on her own when she was only nine years old. When her daughter made mistakes, she would take the opportunity to teach her to both realize the mistake and learn how to not to repeat it.