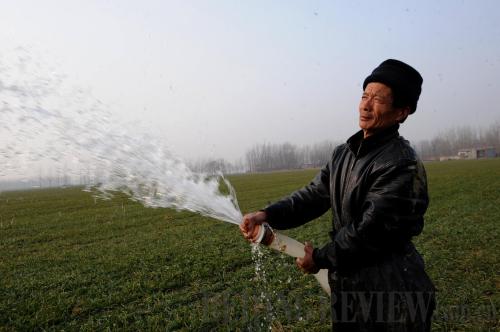 WATERING LIFE: A farmer waters a wheat field in Shangcai County, central China's Henan Province on February 6. A prolonged drought since last October in the province might stretch into the spring farming season (ZHU XIANG)
China still faced the grim task of fighting a drought despite recent snowfalls and enhanced irrigation in major wheat growing regions, the country's drought relief authorities said on February 12.
The drought was likely to continue to affect crops, as the weather is getting warmer and winter wheat needs large amounts of water when it is turning green, said Chen Lei, Minister of Water Resources and deputy chief of the Office of State Flood Control and Drought Relief Headquarters (SFDH).
Since last October, eight provinces—Shandong, Henan, Hebei, Anhui, Shanxi, Shaanxi, Gansu and Jiangsu—have been affected by severe drought.
The eight provinces produce more than 80 percent of the country's winter wheat.
On February 9, the SFDH issued a moderate drought alert.
As of February 13, a total of 7.22 million hectares of winter wheat farmland had been affected in the eight provinces, accounting for 39.6 percent of their total wheat-sown areas, said the Ministry of Agriculture (MOA).
A worst drought
On February 9-10, a light to moderate snow fell across most of the drought-hit areas, including Shanxi, Henan, Jiangsu and Anhui. Most regions in north China and along the Yangtze and Huaihe rivers reported precipitation of less than 10 mm in the period.
On the morning of February 10, Beijing got its first snow this winter, after 108 consecutive days without rain or snow.
Song Jisong, the municipal meteorological bureau's chief weather forecaster, said the city's longest winter drought occurred in the winter of 1970-1971, when there was no precipitation for 114 days. This winter drought is the second longest in 60 years.
Snowfalls starting on February 13 mainly concentrated in north China's Hebei province and Beijing with precipitation of less than 5 mm.
But Shandong, Shanxi, Henan, Anhui and Jiangsu were still experiencing severe droughts, said the National Meteorological Center.
"East China's Shandong Province, the nation's second-largest wheat producer, is suffering its most severe drought in six decades and has had only 12 mm of rain since September last year, 85 percent less than normal level," Xinhua News Agency said on February 9.
More than half the 4 million hectares of wheat-growing land there have been hit by drought.
Even though 4,000 pumping stations are supplying water, the situation in the province is severe.
Data from the provincial meteorological bureau show the drought will be Shandong's worst in 200 years if there is no significant precipitation before the end of February.
Also unable to shake off the dry season is central China's Henan Province.
Similar to Shandong, it has seen its lowest rainfall in almost 60 years. Around 1.4 million hectares of wheat-growing land need water.