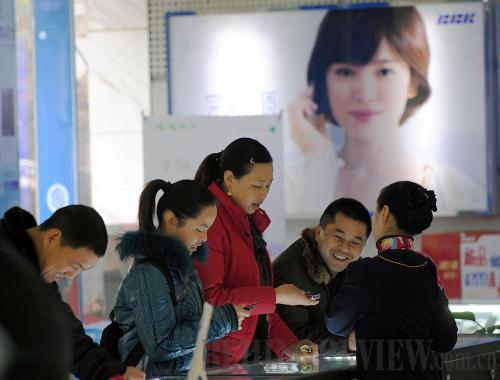 BUY MORE: Customers choose mobile phones at a store in Xuanen County, Hubei Province 2011 (SONG WEN)
Accelerating economic growth by expanding domestic demand has been one of China's primary strategies for economic development in the post-crisis era. In 2011, however, the strategy will be dragged down by inflation as high inflation drains people's purchasing power.
The China General Chamber of Commerce recently released a report on the top 10 commercial prospects in China in 2011, which says this year domestic consumption will maintain fast growth, but the real growth rate of retail sales of consumer goods will slow down, probably lower than the rate in 2010.
A survey by the Chinese Academy of Social Sciences (CASS) shows that the increasing prices have reduced the satisfaction among urban and rural residents. People's tolerance of price fluctuations has declined, and rural residents are less confident and optimistic than urban residents about their future.
"The government will actively expand domestic demand, especially household consumption in 2011," said Chen Deming, Minister of Commerce, at the national commercial work conference held on December 22, 2010.
In rural areas
In 2011, the Ministry of Commerce (MOFCOM) will continue subsidies for rural home appliance buyers and the home appliance replacement plan, readjust the product structure of subsidies for rural appliance buyers and increase the variety of products for the home appliance replacement plan.
Subsidizing rural home appliance buyers, starting in December 2007, was meant to encourage consumption among the massive rural population. Today, the government still offers a 13-percent subsidy for color TVs, refrigerators, washing machines, mobile phones, computers, water heaters and microwave ovens sold in rural areas. According to MOFCOM figures, in 2010, this policy was key to stimulating consumption for the year—a total of 77.18 million home appliance sets were sold under this policy, with sales value reaching 173.23 billion yuan ($26.13 billion), increasing by 130 percent and 170 percent, respectively, year on year. Of the total, the sales volume of refrigerators and color TVs ranked first and second, hitting 56.74 billion yuan ($8.56 billion) and 48.85 billion yuan ($7.37 billion).
In 2011, MOFCOM will boost consumption of electronic and telecommunications products and services and promote green recycling consumption. It will also propose an economical, green and low-carbon consumption pattern suitable to Chinese circumstances in order to realize sustainable consumption.
MOFCOM will also improve the logistics and service system, which is a focal point to expand domestic demand. The rural market project is a key project to improve the logistics and service system in rural areas. The government will also arrange special fiscal subsidies to encourage and assist urban chain stores and supermarkets to open outlets in rural areas. Supermarket chains now cover 75 percent of China's rural villages.
The ministry will make appropriate plans and guide social capital to invest in constructing high-level logistics centers and improve the service functions of existing commercial outlets. It will also establish an electronic payment network for the rural market project, encourage farmers to use bankcards and expand micro-financing.
In urban areas
In urban areas, MOFCOM will launch regulations to strengthen the planning of malls, optimize the layout of commercial outlets and accelerate community commerce construction. MOFCOM will support the reorganization of retail enterprises, nurture self-owned brands and improve the controlling power of channels.
Online shopping has proven its worth in recent years, growing quickly and attracting consumers with new and innovative ways to buy. MOFCOM will promote the sound development of e-commerce and online shopping, accelerate nurturing of online sales platforms and encourage traditional commercial enterprises to develop online sales.
On January 5, 2011, MOFCOM released a circular to regulate online shopping by strengthening the inspection and examination systems to protect consumers and promote online shopping.
Facing growing pressures from inflation, MOFCOM said it will strengthen market monitoring, as well as supplies of reserve commodities, trans-regional transportation and regulations of imports and exports.
On January 4, 2011, the People's Bank of China, the country's central bank, said it will emphasize stabilizing the general level of prices in its financial macro-control, effectively manage the monetary liquidation and curb rapid price hikes.
The central bank said it will guide monetary and credit policies in economic restructuring and mainly support projects oriented to the expansion of domestic demand, industrial structural readjustment, coordinated regional development and urban construction.
Situation forecast
Wang Yun, a researcher at the Academy of Macroeconomic Research with the National Development and Research Commission, thinks there will be several favorable factors supporting the steady and fast consumption growth in 2011.