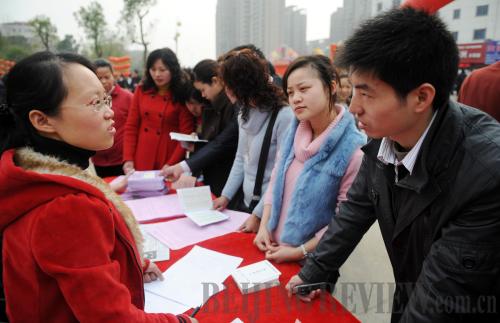 JOB FAIR: Rural migrant workers at a job fair in Hufang Town, Nanchang in Jiangxi Province, on February 24, 2010 (ZHOU KE)
Rural migrant workers are a major work force in Chinese cities. Their employment is usually temporary and sensitive to economic fluctuations. They were not included in official urban unemployment statistics, but that has changed.
Starting in January 2011, rural migrant workers are counted in unemployment statistics.
At the end of November 2010, the Ministry of Human Resources and Social Security (MHRSS) issued a circular on establishing a national employment information monitoring system. Local employment service agencies are required to collect and submit monthly report on labor force information, such as basic personal data, household registration status, address changes, as well as employment and unemployment status, via an Internet platform.
Long-awaited reform
Unemployment will be a long-term and big economic and social problem in China, said Zhou Tianyong, a professor at the Party School of the Central Committee of the Communist Party of China.
China is under huge employment pressure. In 2009, an estimated 30 million unemployed rural migrant workers, and more than 9 million college graduates needed jobs, Zhou said.
In addition, China's ongoing urbanization process will move a large number of rural surplus laborers into cities in the next three decades, Zhou said.
Due to factors such as the colossal size and high mobility of the labor force, China's current unemployment situation is more difficult to size up than before, said Hui Shuangmin, a researcher at the Economics Department of the Chinese Academy of Governance.
In recent years, unemployment rates released by different organizations in China often do not match up.
For example, on December 16, 2008, the Chinese Academy of Social Sciences (CASS) published its annual Blue Book on China's Society, saying China's urban unemployment rate reached 9.4 percent in the year. In March 2009, MHRSS announced China's urban unemployment rate in 2008 was 4.2 percent.
Some scholars estimate China's unemployment rate in 2009 was 14.2 percent or even a staggering 33 percent.
The discrepancies arise from different statistical methods, said Zhang Chewei, Deputy Director of the Institute of Population and Labor Economics of CASS.
CASS's unemployment data were obtained from surveys, whereas the official unemployment rate released by MHRSS is the registered urban unemployment rate, Zhang said.
China has had a registration system for jobless people since the early 1980s. At that time, China was under a planned economic system when jobs were assigned by the government.
As China has shifted from a planned economy to a market economy, the government no longer assigns jobs. In 1994, the index "job waiting rate" was changed to "urban registered unemployment rate." People without jobs need to register with labor authorities to claim unemployment insurance.
The registered unemployment rate only covers unemployed urban residents who have registered with labor authorities. People with flexible employment such as the self-employed and rural migrant workers are not taken into account.
Before 2003, laid-off workers were not included in the registered unemployment rate either, said Cai Fang, Director of the Institute of Population and Labor Economics under CASS.
For years, China's registered unemployment has hovered around 4 percent. But statistics reported by labor authorities alone are not enough for assessing the real employment situation, said Zhang.
The registered unemployment rate can be a misleading indicator of China's employment situation, said Yang Yiyong, Director of the Institute of Sociology of the National Development and Reform Commission. In 2007, for example, the surveyed rate suggested the situation was dire, whereas the registered rate did not, he said.
This indicator makes China's unemployment rate appear lower than many other countries in the world; it prevents government leaders from feeling the pressure the public is subject to and misleads the government in setting price controls and employment promotion policies, Zhou said.
"In whatever sense, we should thoroughly reform this unemployment indicator," Zhou said.
New measurement
With the launch of a new national employment information monitoring system, experts are calling for replacing the existing official registered unemployment rate with a surveyed employment rate.
When comparing different unemployment statistics, the International Labor Organization (ILO) said labor force sample surveys are "the most preferred method of unemployment rate calculation" since they give the most comprehensive results and enable calculation of unemployment by different groups. This method is the most internationally comparable.
Currently, many countries in the European Union and the Organization for Economic Cooperation and Development (OECD) report surveyed unemployment rates largely according to the ILO's definition.
Director Yang suggests setting up an independent monthly unemployment survey system and stepping up the monitoring of job losses.
Timely monitoring of the unemployment rate helps people manage employment risks, Yang said.
At a national conference on statistics held in early 2010, it was said that unemployment surveys will officially be conducted in 2010-15. So far, the National Bureau of Statistics has been tight-lipped on the latest progress.