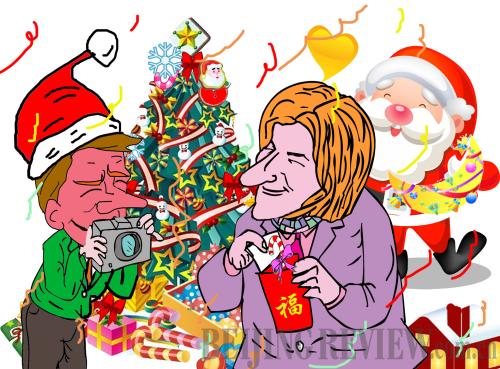 (LI SHIGONG)
My first year in China, I didn't actually celebrate Christmas. December 25 happened to be my roommate's birthday, and so my group of friends gathered together to throw her a big hotpot dinner party instead. Joyous tidings were an afterthought. It was easier than having to battle holiday-induced homesickness.
My second Christmas, things were different. I had adjusted to life in China, relocated from Shanghai to Beijing, and was gearing up for a holiday season filled with video chats to family back home in North America. I would call my father on Skype and he would come to the computer brandishing a pumpkin pie or batch of brownies he had just baked for Christmas dessert. We would discuss his menu plans for the dinner he was in the midst of whipping up; I'd lament my apartment's lack of an oven.
Growing up, Christmas was primarily a morning event. But after I moved to Beijing, celebrations moved to the evening. My childhood rituals of opening gifts and pancake breakfasts at 7 a.m. were replaced by large potluck dinners with even larger numbers of friends, meals that lasted late into the night.
It was always a gargantuan amount of food. Or maybe I should say diverse—I lost count of the sheer amount of national cuisines represented at these apartment banquets. Gong bao ji ding followed by Moroccan rice pilaf with a side of kimchi, and homemade tiramisu for dessert seemed to be the norm. A French friend of mine experimented with brewing her own eggnog, to great success.
As varied as the food could be, decorations were not. I had yet to meet anyone who had managed to buy a Christmas tree, or scrounged the fish and flower markets for a poinsettia or two. These can be hard things to find in Beijing and most people did the best they could to make things festive by draping strings of lights along apartment walls. The city outside, of course, remained relatively tinsel-free. Decorations were limited to shopping mall perimeters. The fancy mall down the road from my apartment had a metal Christmas tree display that reminded me of a scene from the classic holiday cartoon program A Charlie Brown Christmas, when Charlie Brown and Linus scour a multicolored tree lot searching for the perfect pine. Beijing's incarnation, unfortunately, rang a bit more tinny than warm and fuzzy for me.
The sparseness surrounding the holiday meant it often crept up and surprised me. In my pre-China life, the holiday season progressed along a particular schedule: one weekend for decorating the tree, another for buying gifts, another for baking Christmas cookies, and so on and so forth until the big day arrived. Here, there was none of that. Just the grind of work and then a flurry of dinners. The meals were definitely nice events, but sometimes I felt like they were interchangeable with similar parties that happened throughout the year. (At one Christmas dinner in my third year, a longtime Beijing expat I knew quipped that the get-together was analogous to a "networking event.")
This is not to say I'm looking to indict China for its lack of festive spirit. I'm definitely someone who falls into the "live and let live" camp, and it seems silly to force foreign holidays on people. Christmas here seems more like a second Valentine's Day. It's primarily celebrated by young couples, flush with a little cash if they're lucky. For me, I suppose, it was just a matter of not having yet formed my own independent Christmas traditions.
Everything is different this year, though. I have a new roommate, one who moved to Beijing laden with a trunk full of Christmas decorations. While our apartment may not have an oven in which to bake pies or roast winter vegetable medleys, we do have a (little plastic) tree. In fact, we have two trees, both heavily draped in ornaments. Maybe it's a sign that my Christmas traditions are re-establishing themselves somewhat. I think it's a good hybrid, this festive flat plus massive banquet scheme we have going on. And it makes me wonder what next year's holiday holds in store.
Hopefully a homemade pumpkin pie is on the cards.
The writer is a Canadian living in China