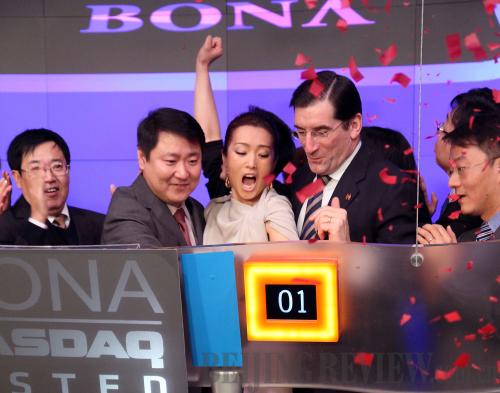 MAIN FEATURE: Yu Dong (second left), founder and CEO of Polybona, and Chinese actress Gong Li (third left) ring the opening bell for Polybona at the Nasdaq Stock Exchange on December 9 (GETTY IMAGES)
Ringing the opening bell at the Nasdaq Stock Exchange in New York is a relatively uneventful task, but for Yu Dong, founder and CEO of Beijing Polybona Film Distribution Co. Ltd., it was an emotional one. With Gong Li, China's most famous actress, at his side, Yu burst into tears as the bell was sounded, opening the trading and ushering in Polybona's first day listed on the Nasdaq.
"This overseas IPO won't be easy for Polybona, but we made it as China's first movie studio listed in the United States and hope we can be the best," he said.
Founded in 1999 and backed by state-owned conglomerate China Poly Group, Polybona is China's biggest private movie distributor-turned-movie studio.
Before the studio's Nasdaq debut, Yu and his team spent more than a week briefing U.S. fund managers about China's burgeoning movie industry, elaborating on the differences between Chinese and U.S. movie markets in order to convince them of the high-growth prospects of China's movie sector.
But investors were hesitant to buy into it.
At an issuing price of $8.5, Polybona was set to raise $99.5 million with its IPO. But the studio saw its shares plunge 22.59 percent to close at $ 6.58 after the first day, unlike Youku and Dangdang, considered China's YouTube and Amazon respectively, which soared in their U.S. debuts a day earlier.
"The loss was largely because overseas investors didn't fully comprehend Polybona's shareholder structure and profit model, and we care more about long-term returns to investors rather than short-time fluctuations in stock price," said Polybona's Chief Financial Officer Xu Liang.
But the company's hopes are still high as Polybona continues to expand its reach to cooperate with big name U.S. studios like Paramount Pictures in Hollywood.
Movie-making goals
As the first private studio to be granted a movie distribution license in China, Polybona set its primary goal as movie distribution, while also focusing on expanding to movie investment and production, cinema operation and talent agency businesses.
Compared with movie distribution, which contributed to 71.4 percent of its revenue between January and September this year, the other three business operations made only a combined contribution of 28.6 percent.
Polybona's in-house structure is already much different from its domestic competitors, Huayi Brothers Media Corp. and Beijing New Picture Film Co. Huayi Brothers boasts a balanced business portfolio of film production, TV production and talent agency, and New Picture's revenue is largely guaranteed by China's most diligent and best known director Zhang Yimou who directed The Story of Qiu Ju and Hero, among others.
Polybona, instead, is positioned as a movie distribution and production house, similar to the eight largest Hollywood studios that tailor movies of varied genres for different movie seasons and choose directors and the crews accordingly, said Yu.
"Like the large studios, we hope to distribute 20 movies annually in the future, of which six to eight will be independent productions," Yu said.
Movie distribution now provides a steady and major source of income for Polybona, and usually accounts for about 15 percent of China's annual after-tax box-office revenue, Yu said.
The studio has already set out to become an established movie house across the movie industry board. It has invested prudently in movie content production since 2003 and had two of its movies released in 2009 listed in China's top 20 box-office blockbusters.
Direct Investments
Strengthening its control over movies they distributed allows Polybona to have a larger say in deciding the theme and the production crew. It also enables them to coordinate production more efficiently with regards to different movie seasons. And if necessary, Polybona can postpone certain movies it produces to make way for independent productions.
By the end of September 30, 2010, the studio had 25 contracted actresses and actors, and operated six cinemas, mainly in Beijing.
In addition, Polybona is cooperating with 37 cinema operators nationwide for win-win results.
It also plans to invest 500 million yuan ($75.2 million) on 200 screens at 20 more cinemas in three to five years nationwide.