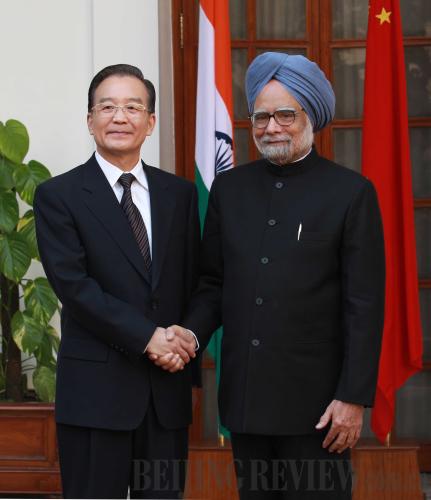 RENEWING TIES: Visiting Chinese Premier Wen Jiabao meets Indian Prime Minister Manmohan Singh in New Delhi on December 16 (LIU WEIBING)
Chinese Premier Wen Jiabao set out on a five-day visit to India and Pakistan in mid-December, boosting friendship with the two South Asian nations in all aspects.
The continuation of healthy relationships with the countries not only will create a stable and peaceful atmosphere for China's development, but could also benefit the whole region, experts said. They think China should play an important, constructive role, helping maintain peace and development in South Asia.
Common interests
This year marks the 60th anniversary of China's diplomatic relationship with India. Premier Wen's India visit promoted bilateral cooperation in political, economic and social spheres, said Ma Jiali, a research fellow on South Asian studies with the China Institutes of Contemporary International Relations (CICIR).
"The current Sino-Indian relationship is on a fairly smooth path, and Premier Wen's India trip will lead the two countries to further develop stable and healthy bilateral ties," Ma told Beijing Review.
A communiqué signed during Wen's visit says China and India agreed to exchange high-level visits on a regular basis and to inaugurate a package of other measures to enhance bilateral ties—agreements that reflected the spirit of their "strategic and cooperative partnership for peace and prosperity."
A telephone hotline between the Chinese premier and the Indian prime minister will be opened for regular consultations on issues of importance to both sides. Meanwhile, the two sides endorsed the launching of a mechanism of annual exchange of visits between their foreign ministers.
Ma said regular high-level exchanges would help develop close bilateral ties. The two sides will be able to limit misunderstanding and enhance trust through such exchanges, he said.
Economic cooperation—especially trade-based cooperation—between China and India has continued to grow in recent years. Indian statistics place the Sino-Indian trade volume in 2009 at $38.64 billion, down 12.5 percent from the previous year, due to the global financial crisis. China remained India's top trade partner, top exporter and third largest importer.
The two countries' 2010 trade volume is expected to exceed $60 billion. In addition, the two nations agreed to initiate a strategic economic dialogue to enhance macroeconomic policy coordination in an attempt to raise their annual trade volume to $100 billion by 2015. During Wen's visit, the two sides signed contracts valued at approximately $16 billion.
In a bid to establish better mutual understanding, China and India designated 2011 as the Year of China-India Exchange and decided to broaden exchanges between the two countries' civil society organizations, youth, media, scholars and artists.
Ma said these measures would greatly promote bilateral exchanges. "Boosting exchanges and communication among young people will be of far-reaching significance for the two nations," he said.
The two sides reiterated a firm commitment to resolving outstanding differences, including the boundary question, through peaceful negotiations as soon as possible.
Ma said both sides should be patient and active on the boundary issue. "They should continue to negotiate and solve the problem through a proper and peaceful framework," he said, adding that both sides should exercise mutual understanding and accommodation and should be just and reasonable.
It is important they strengthen mutual political and security trust in various ways, Ma said. For example, they should deepen military cooperation and exchanges.
Since China and India are both large emerging countries, they have many common interests. Ma said they need to strengthen cooperation, especially in climate exchange negotiations, food security, energy security and the construction of a future world system under UN and other multilateral frameworks.
"Now the Indian Government has realized the importance of developing cooperation with China, given growing common interests between the two big developing countries," Ma said.
Sun Shihai, a researcher with the Chinese Academy of Social Sciences (CASS), said although certain parts of the bilateral relationship have been rocky, friendliness and cooperation are the backbone of the connection.
Friendly and peaceful regional and international environments are indispensable to both countries' sustainable development, he said. Sun added the two nations have many similar stances and viewpoints on global issues, and neither would benefit from strict precautions against each other.
All-weather partnership
China and Pakistan have established an "all-weather strategic partnership of cooperation" that benefits both sides. During Wen's visit, the two sides decided to comprehensively advance the partnership, issuing a joint communiqué and inking a number of trade deals worth about $10 billion.