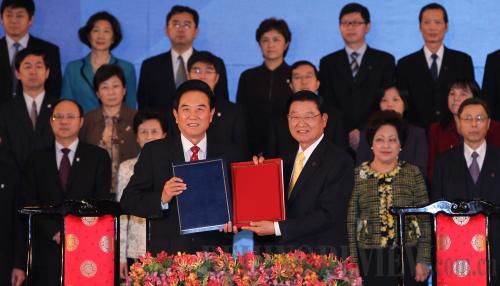 BIG AGREEMENT: Chen Yunlin (left), President of Chinese Mainland-based Association for Relations Across the Taiwan Straits, and Chiang Pin-kung, Chairman of Taiwan-based Straits Exchange Foundation, sign an agreement on cross-Straits medical and health care cooperation in Taipei on December 21 (SONG LIDONG)
Chinese mainland and Taiwan negotiators signed a medical and health care cooperation agreement in Taipei on December 21 in a move to jointly combat epidemics and ensure the quality of traditional Chinese medicine.
The agreement reached between the mainland's Association for Relations Across the Taiwan Straits (ARATS) and Taiwan's Straits Exchange Foundation (SEF) covers medication, medical devices, cosmetics and health products with the purpose of guaranteeing the health of people on both sides of the Taiwan Straits and promoting bilateral medical exchanges.
ARATS and SEF are the two bodies authorized to handle cross-Straits affairs. This was the sixth round of talks between heads of the two organizations in two years after they resumed talks in 2008 after a nine-year suspension.
The agreement gave cooperation details such as timely notification of infectious disease; strengthened disease prevention measures and handling of major epidemics; enhanced cooperation in pharmaceutical research and safety management; exchanges in traditional Chinese medicine research and quality guarantees, and cooperation in handling medical emergencies.
ARATS President Chen Yunlin said cross-Straits medical cooperation was urgently needed "given the increasing number of people and goods traveling across the Taiwan Straits." He said the medical and health agreement signaled an "expansion in cross-Straits talks to the social and cultural arena."
SEF Chairman Chiang Pin-kung said the agreement, together with the previously signed farm product inspection and quarantine agreement and a food safety deal, formed a safety net across the Taiwan Straits.
"There has been a large number of successful medical cases with cross-Straits cooperation, and this time cooperative handling of medical emergencies is included in the agreement, which will be beneficial for people on both sides," said Victor Chang, President of Taiwan-funded Landseed Hospital, Shanghai.
Some 90 percent of the traditional Chinese medicine used in Taiwan comes from the mainland.
Medicine and health are less disputatious areas that are ready for cooperation, say officials with the Ministry of Health in Beijing. The ministry is working on a detailed regulation that will facilitate the development of Taiwan-backed hospitals and the practices of doctors from Taiwan on the mainland.
In order to protect the interests of the local medical sector in Taiwan, the cooperation agreement does not cover the training of medical personnel, neither does it allow mainland medical staff to obtain licenses and work in Taiwan, or mainland hospitals to establish branches on the island.
The negotiators also agreed during their talks to continue discussing an investment protection agreement at the seventh round of talks next year, to negotiate "actively" commodity and services trade, dispute settlements and economic cooperation, says a statement released after the Chen-Chiang meeting.
These topics are included in follow-up negotiations of the cross-Straits Economic Framework Cooperation Agreement (ECFA), which took effect in September 2010.
Officials say they hope the investment protection agreement, an important part of the follow-up negotiations after the signing of the ECFA, will be signed during a new round of top-level talks between ARATS and SEF next year.
"Investment protection involves many aspects and departments, and we have not yet reached a deal that satisfies both Taiwan and mainland investors," said President Chen.
The two sides should further improve the investment environment and protect investor interests by following general practices and reflecting "cross-Straits features," in order to promote two-way investment across the Taiwan Straits.
The mainland has been Taiwan's largest trading partner and export market since 2007. But, some Taiwan investors on the mainland have complained their business interests are not properly protected as they were not familiar with regulations on the mainland, though a special law protecting Taiwan investors' mainland endeavors took effect in 1994.
It's also noticeable cross-Straits investment is not as balanced as the number of mainland investors in Taiwan is still small compared to others. And mainland investors in Taiwan are subject to more restrictions. Thus the mainland has also pressed for inclusion of investment promotion into the protection agreement.
The two sides will establish a committee for cross-Straits economic cooperation "as soon as possible" to ensure ECFA agreements can be reached and to supervise the implementation of the ECFA.
Chen said cross-Straits talks next year should focus on stable development of the institutionalized consultation mechanism between the ARATS and the SEF.
The two sides were also engaged in preparations for allowing mainlanders' individual tours to the island "some time next year." Currently, Taiwan does not allow mainland tourists to travel individually, only permitting package tours with stays of up to 15 days.
Latest figures show the number of mainlanders visiting Taiwan in 2010 is likely to top 1.2 million, an all-time high.