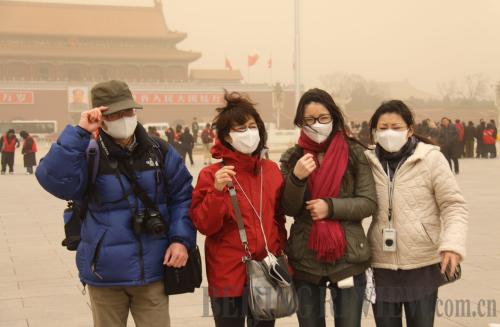 After an unusually humid winter with at least 10 snowfalls in Beijing, a severe sandstorm blown by strong winds bringing with it thousands of tons of desert sand took many residents of the city by surprise. On the morning of March 20, Beijingers woke up to see clouds of yellow dust in the air and a sky that was an ominous orange in color. The loose soil and dust that had traveled hundreds of miles from deserts in Mongolia and China's northwest blanketed Beijing's streets, covering parked vehicles, bikes, roofs and even plant life, as well as making its way into people's homes.
People were forced to close the windows of their homes and vehicles in order to keep the air inside breathable. Most pedestrians running unavoidable errands wore face masks and hurried through the streets.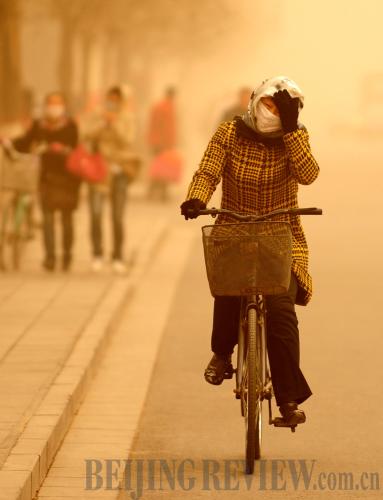 Most parts of the city were battered by strong winds throughout the day. In Changping District in the northern suburbs, winds swept through the streets at speeds of up to 100 km per hour.
"The snowfall certainly curbed local dust flows, but sandstorms cannot disappear completely as long as their sources still exist," said Guo Hu, head of the Beijing Meteorological Station, referring to China's 1.67 million square km of desert.
"The sources of sandstorms that are nearest to Beijing are the deserts of the Inner Mongolia Autonomous Region, which are only 800 km away," said Guo. "While the slowest train needs 12 hours to cover the distance, sandstorms need only seven hours."
Beijing has been notorious for sandstorms throughout its history. During a single sandstorm in April 2006, at least 300,000 tons of sand poured down on Beijing. However, people believe that the situation has been remedied significantly in the past decade through intensified environmental efforts, including forestation projects in the northwestern and northern regions of China.
The density hovered above 1,000 micrograms per cubic meter in Beijing's city proper that morning, causing serious pollution. Beijing's weather bureau ranked the air quality as a rare level five, the worst possible pollution grade. This essentially means that the air was hazardous to breathe, with a pollution reading of over 301.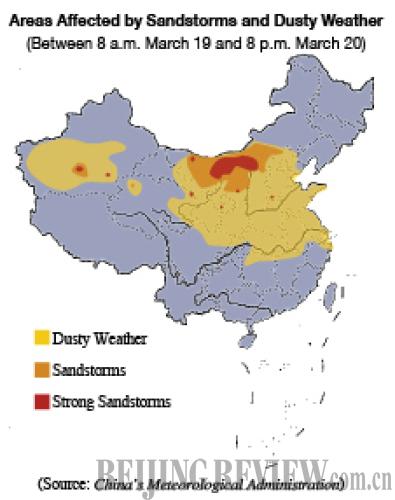 According to the China Meteorological Administration (CMA), the effects of the sandstorm that wreaked havoc in Beijing and swept across the country between March 19 and 21 were felt by a total of 21 provinces, municipalities and autonomous regions on the Chinese mainland. The air pollution index in Hong Kong shot to its highest level ever on March 22, mainly due to the sandstorms.