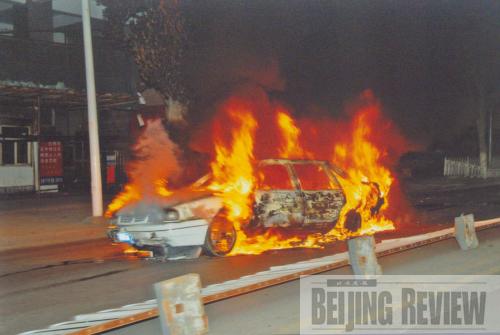 HORRIBLE FLAMES: A car is set on fire by rioters on July 5 (XINHUA) 
The evening of July 5 was like any other in People's Square in downtown Urumqi, capital of northwest China's Xinjiang Uygur Autonomous Region. People were out enjoying the night air, walking, singing and dancing.
At 8 p.m., though, the evening turned anything but normal. Rioters seemed to materialize out of thin air, smashing and burning buses, destroying roadside blockades, looting and randomly killing pedestrians. Residents in the square and its surroundings broke into a panic, screaming and running for safety.
The violence lead to the death of 156 people, including 129 males and 27 females, said Li Qi, Director of the Publicity Department of Committee of the Communist Party of China (CPC) of the Xinjiang Uygur Autonomous Region. Another 1,103 were injured.
The Standing Committee of the Political Bureau of the Central Committee of the Communist Party of China held a meeting on July 8 to discuss issues relating to the riot in Urumqi. General Secretary of the CPC Central Committee Hu Jintao, who is also Chinese President, presided over the meeting.
A statement issued after the meeting says that stability in Xinjiang is the "most important and pressing task."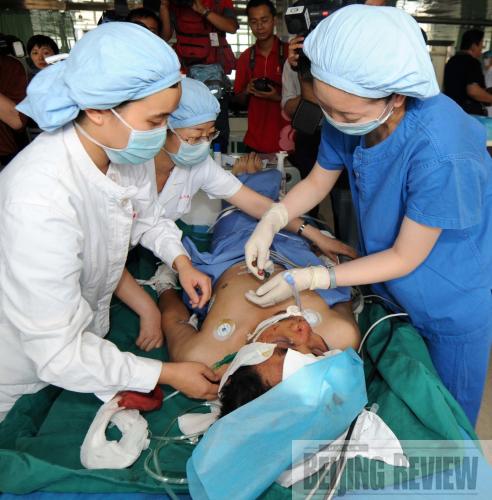 VIOLENT TRAUMA: A victim of the violence receives treatment in an Urumqi hospital on July 6 (SHA DATI)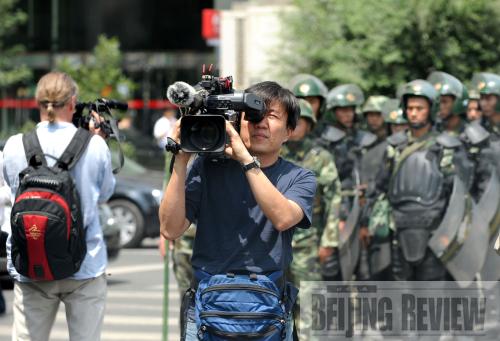 ON THE SPOT: After the violence on July 5, more than 60 foreign and 80 domestic news media organizations sent journalists to Urumqi. On July 6, Urumqi authorities opened a news center (XU LIANG) 
The deadly July 5 riot in Urumqi has "profound" political background, according to the statement, which also says that the government will "firmly crack down on serious crimes including assaults, vandalism, looting and arson" to maintain social stability and safeguard people's fundamental interests in Xinjiang.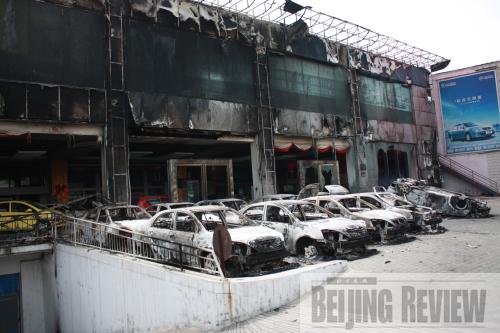 RIOT'S TOLL: An Urumqi automobile dealer bears the marks of violent unrest on July 5 (TIANSHANNET) 

"Instigators, organizers, culprits and violent criminals in the unrest shall be severely punished in accordance with the law," the statement says. "Those taking part in the riot due to provocation and deceit by separatists, should be given education."

Organized violent crime

Authorities said evidence suggested that the separatist World Uygur Congress masterminded the violence. The group, regional government officials said, has been instigating unrest via the Internet and calling on supporters "to be braver" and "to do something big." The group is led by Rebiya Kadeer, a former businesswoman in Xinjiang who was detained in 1999 on charges of harming national security. She was released on bail on March 17, 2005 and later went to the United States to seek medical treatment.

Police have obtained recordings of calls between overseas "East Turkistan" groups that have been engaged in activities to separate Xinjiang from China and their accomplices in China, a local officer said.

According to the police, Kadeer said in the recorded calls that "something will happen in Urumqi." She also called her younger brother in Urumqi, saying, "We know a lot of things have happened," referring to the June 26 brawl between Han and Uygur workers from Xinjiang in a toy factory in southern Guangdong Province.

On June 25, a fight broke out between Han and Uygur workers in Shaoguan after a former employee wrongfully accused six Uygur men of sexually assaulting two female Han workers. Two Uygur workers died in the fight.

Their deaths were used as an excuse for the riot in Urumqi on July 5, said Nur Bekri, Chairman of the Xinjiang Uygur Autonomous Regional Government.

Urumqi police authorities received a tip in the early hours of July 5 that information was spreading on Internet forums calling for demonstrations at People's Square and the South Gate in Urumqi at 7 p.m., the police report said. At 6:20 p.m., more than 100 people gathered but were soon dispersed by the police. At around 8 p.m., people gathered again and started the violence, which soon spread to other downtown areas.