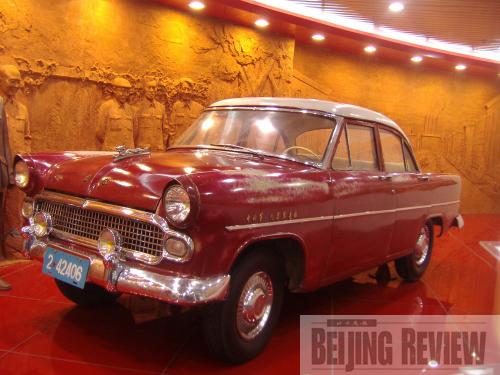 AUTO ANCESTOR: The first car named Dongfeng produced by FAW in May 1958 (LAN XINZHEN) 
The management team of China First Automobile Works Group Corp. (FAW) is working arduously on the company's further development. The recent turmoil with major American automakers in Detroit has given it a sense of the crisis, but also has compelled it to find opportunities for expansion.
"We have divided the overseas market into a strategic market and a key market according to the difficulties of access and market attraction," Ma Zhendong, FAW's Deputy Party Secretary, told Beijing Review.
At present, FAW has been the leading automaker in China and the global market, with its trucks mainly sold to Central Asia, its cars to Central and South America and Arab countries, and its car components to Europe and the United States.
While some of the top American automakers have seen their sales continue to fall in the midst of the international financial crisis, FAW has managed to maintain its momentum and seen its sales grow.
Changchun, capital of Jilin Province, is an hour's flight northeast of Beijing.
FAW is located on Dongfeng Avenue at the southwest corner of Changchun. The avenue, named after a car brand manufactured by FAW, the first car produced by China, is called the "cradle of the Chinese auto industry," and Changchun is known as the "auto city of China" because it is home to FAW.
More than 50 years ago, FAW was just a factory making automobiles with hammers, but now it has become a large automobile producer with modern production lines.
The first Chinese automaker
When the People's Republic of China was founded in 1949, China was still a backward agricultural nation. In 1952, modern industries only accounted for 26.6 percent of the country's gross industrial and agricultural output value. The government, seeing it an urgent task to quickly change the backward situation in the industrial sector, particularly the heavy industry, decided in 1950 to invite the Soviet Union to help build an auto manufacturing plant to develop China's auto industry, Ma said.
On July 15, 1953, construction of FAW began after controversies over the building site had been resolved. Earlier, according to Ma, a team organized by the Central Government had inspected many localities, including those in Beijing, Shijiazhuang in Hebei Province, Taiyuan, Taigu, Pingyao and Qixian in Shanxi Province, Xi'an and Baoji in Shaanxi Province, and Xiangtan and Zhuzhou in Hunan Province. But they eventually chose Changchun, because of its location at the center of northeast China where there were abundant mineral resources. The factory also would be adjacent to the Beijing-Harbin Railway, which would facilitate the transport of equipment from the Soviet Union and make handy use of steel products, coal, wood, water and electricity resources produced in northeast China.
When building the auto works, the Chinese Government also worried about the country's lack of experience in manufacturing cars. It reached an agreement with the Soviet Union, under which China would send trainees to the then Soviet Union's Stalin Automobile Works to learn auto manufacturing technologies. From November 1953 to September 1956, China sent there a total of 518 people in eight groups, who later became lead technicians at FAW and the first automakers in the country.
On July 13, 1956, the first truck rolled off the assembly line under the Jiefang brand. The next day, another 14 trucks were completed in line with FAW's production goals.
The birth of Hongqi cars
After it started manufacturing trucks, FAW began to look into automobile production. The Soviet Union provided aid for FAW to make trucks, but producing cars would be an entirely new process. In June 1957, Zhu De, the then Chinese Vice President, sent a Skoda car he got from Czechoslovakia to FAW for technicians to study. In August, other sample cars made by the Soviet Union, France and Britain were transported to Changchun. FAW copied some aspects of their designs and transformed them.
Under the leadership of Meng Shaochun, deputy head and chief engineer, FAW created the product designation scheme for its first car. FAW workers used several steel tubes to affix sheet iron and hammered the bodies of the cars with rudimentary tools.
May 12, 1958, was the trial production date of the first car made in China—the Dongfeng brand. With six seats, the car was equipped with a heater and air-conditioning system. The maximum engine power was 514 watts or 70 horsepower, the fastest speed was 128 km per hour, and it required nine to 10 liters of oil per 100 km. The Dongfeng cars were politically symbolic in that they showed China could manufacture automobiles. After that, FAW began the trial production of high-grade cars under the Hongqi brand.
On August 1, 1958, Hongqi autos were born after a one-month trial production. Compared with the Dongfeng models, the Hongqi ones were more elegant and artistic. Their exterior and internal designs embodied Chinese style. Their maximum power was 200 horsepower, and their fastest speed was 185 km per hour. In 1964, the Chinese Government started using Hongqi cars to receive state guests.
On January 17, 1973, the Central Government required FAW to expand its annual auto production of Hongqi models to 300 units. On September 20, 1975, FAW engineers completed 10 new workshops for the expansion of the Hongqi line, covering a total area of more than 60,000 square meters. Bai Yu, Party Secretary of FAW Car Co. Ltd. under China FAW Group Corp., said that the expansion of the Hongqi line started a new chapter in the company's development. During the following decade, the Hongqi production lines were expanded several times. They now cover more than 700,000 square meters with an annual production capacity of more than 60,000 units.
In 1996, improved models under the Hongqi brand were launched and well received by consumers. By 2001, the cars had developed into more than 50 models in the low-end, mid-range and high-end segments. Hongqi was ranked first among the most valuable brands of China in 2001, with a market value of 4.41 billion yuan ($644.74 million).
Reform brings development
FAW built itself up by introducing technologies from the Soviet Union in the 1950s. At that time, the company's technologies had fallen behind those of developed countries, and after 20 years of a closed-door policy, the technology disparities were vast.
In the 1980s, China's reform and opening-up policy sharply raised the country's cargo and passenger transport volumes, and rising market demand for automobiles pushed up prices. At that time, auto imports grew rapidly. Affected by the huge number of imported cars, Jiefang trucks turned from being a top-selling brand to a poorly selling one, which resulted in vehicle overstocks. Meanwhile, FAW was also urged to launch new auto models.
Ma said that after the reform and opening-up policy was launched, FAW attempted to completely introduce foreign advanced technologies and invite foreigners to assist with the transformation. By the end of 1978, FAW had invited four Japanese motor companies, namely, Mitsubishi Motors Corp., Isuzu Motors Ltd., Hino Motors Ltd. and Toyota Motor Corp. to submit bids to invest in FAW as a foreign partner. According to FAW's budget, the transformation of six of the company's total 25 workshops based on the expected annual production capacity of 150,000 units would require an investment of 1.7-2.6 billion yuan ($248.71 million-$380.12 million). This amount was impractical at a time when China lacked funds and was incapable of specialized cooperation. Instead, FAW had to continue to rely on its own strength.
In July 1983, FAW began to transform its other models. During the following three years, it spent 440 million yuan ($64.33 million) of funds it raised on its own on completing the transformation projects that foreign experts would have needed 2.6 billion yuan ($380.12 million) to finish.
On July 15, 1986, mass trial production began on the new Jiefang truck, and on January 1, 1987, the second generation of Jiefang trucks with advanced international specifications in the 1980s were rolled out. The company increased its annual output of trucks from 60,000 to 85,000 units that year.
Going global
The rapid development of China's auto industry began in 1988, a year that also marked the gigantic progress for FAW, following the State Council's strategic decision in August 1987 to establish three car production bases at the FAW, the Dongfeng Motor Corp. (formerly named Second Automobile Works Co.) in central China's Hubei Province and in Shanghai.
After the state approved FAW's development project, transnational auto manufacturers such as General Motors Corp. of the United States, Mitsubishi of Japan and Volkswagen AG of Germany all competed for it, indicating an intent to cooperate with FAW. In the end, FAW chose Volkswagen, and on May 17, 1988, the two parties signed a technology cooperation agreement.
In 1991, the FAW-Volkswagen Automobile Co. Ltd. was established. Bai Yu, Party secretary of FAW Car Co. Ltd., said the company's cooperation with Volkswagen had a positive impact on FAW's management. Because Germans have high standards, they required all components to be sent to Germany for various tests. Only components with a German seal of approval can be used in auto assembly.
FAW also introduced manufacturing technologies and light-engine equipment from Chrysler LLC of the United States, a 016 driver-processing line from Volkswagen's factory in Kassel, welding lines from Volkswagen's Westmoreland factory in the United States, and a 2E3 carburetor production line from Pierburg GmbH of Germany.
With the idea of openness, cooperation and mutual benefit, FAW is actively integrating itself to the international economic system. By cooperating with foreign partners, setting up joint ventures and exporting products, it has realized the transformation of its market structure from relying on just the domestic market to operating in both domestic and overseas markets.
In 2002, a series of major changes at FAW drew the attention of China's auto industry. First the company reorganized Tianjin Automobile Co. Ltd. and then cooperated with Toyota to introduce the Mazda brand on the mainland, rapidly expanding its product chain.
Now FAW has formed a multi-series product structure of trucks, cars, light-duty vehicles and buses. It has the independent brands of Jiefang, Hongqi, Besturn, Xiali and Vita, as well as cooperative and joint venture brands with Volkswagen, Audi AG, Toyota and Mazda Motor Corp.
In 2004, the sales volume of FAW surpassed 1 million units. In 2008, the company sold 1.53 million automobiles, a year-on-year increase of 6.75 percent. Its sales revenue reached 218.4 billion yuan ($31.93 billion), up 8.8 percent compared with the previous year.
In 2008, FAW sold 1.53 million automobiles, taking up more than 16 percent of China's automobile market. This included 135,000 trucks and 1.15 million cars, accounting for 18 percent and 20 percent of the domestic market, respectively. The Audi brand under FAW sold 105,800 cars in 2008, holding a predominant position in China's high-end luxury car market.
Development strategies
Now FAW has extremely good development opportunities as China has become the largest auto producer and seller in the world. Ma said that the company's future goal is to double its output volume, sales revenue, profit and number of employees in the next five years. In the long term, it aims to maintain its annual output of more than 1 million automobiles and realize digital management and set up international operations.
As for product upgrading, Ma said new energy automobiles would be the major force in FAW's future development. At present, FAW has made breakthroughs in research and development as well as the industrialization of new energy automobiles. At the beginning of 2009, 12 hybrid buses manufactured by FAW were put into use in Dalian, Liaoning Province. These new energy buses can save 38 percent more gasoline than traditional buses. Their emissions comply with the Euro IV standard, and they are at the forefront of international hybrid automobiles. In the future, FAW will provide another 100 hybrid buses to Dalian. The company has developed a hybrid car model called Besturn that can operate on 42 percent less gasoline than conventional autos. FAW will finish its preparations for this new energy car model this year.
Ma said the company's new energy technologies have completely independent intellectual property rights, which makes a world of difference from having to rely on foreign technologies as FAW did when it was first established.
FAW has 28 wholly owned subsidiaries and 18 holding subsidiaries, four of which are listed companies—FAW Car Co. Ltd., Changchun FAWAY Automobile Components Co. Ltd., Tianjin FAW Xiali Automobile Co. Ltd. and FAW Qiming Information Technology Co. Ltd. Its major businesses are in six fields: research and development, passenger automobiles, commercial automobiles, components, supporting business and derivative business. FAW now has 132,000 employees and total assets of 134 billion yuan ($19.59 billion).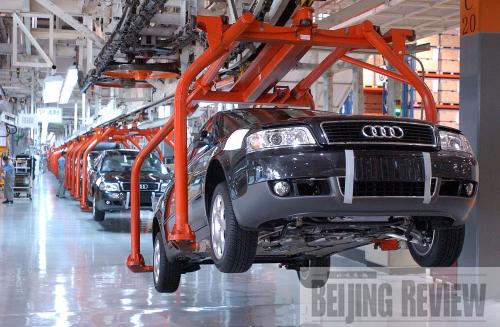 MADE IN CHINA: FAW is also a production base for Audi sedans (XU JIAJUN) 
TRUCKS ON TRACK: FAW's trucks are largely exported to Central Asian countries (LAN XINZHEN)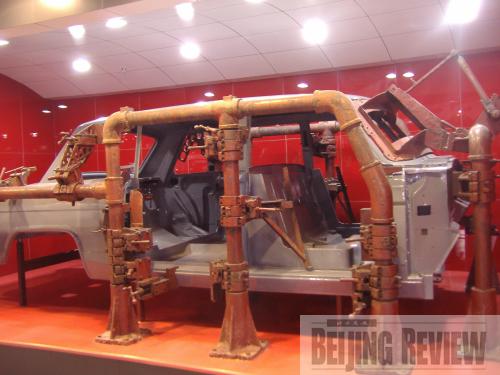 HANDMADE: In the early years of FAW, workers would form the body of cars by hammering (LAN XINZHEN)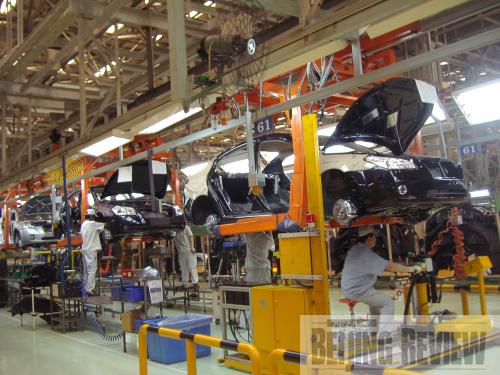 ROAD TO MODERNIZATION: There is no comparison between FAW's current advanced auto assembly lines and the handmade mode of production in its early days (LAN XINZHEN) 
FAW Landmarks
1956 Rolled out the first commercial Jiefang truck
1958 Made the first Dongfeng car produced the first Hongqi luxury sedan
1983 Churned out the one millionth Jiefang
1990 Aligned with Volkswagon in the largest ever joint venture deal in the country's auto industry
1992 Launched its first overseas assembly plant
2004 Annual sales hit one million units
2007 Ranked second on "China's Top 500 Manufacturers" and "The Most Influential Chinese Enterprise" lists
Source: www.faw.com.cn