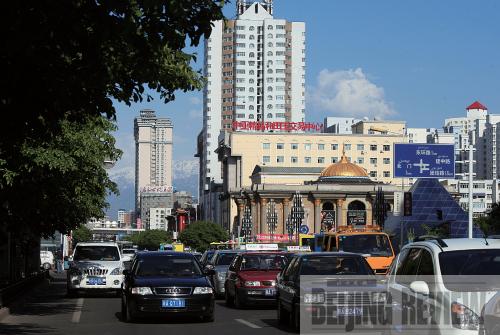 URBAN HARMONY: Xinjiang is seeking to improve its urban layout through energy conservation, infrastructure improvements and ecological advances 
Wandering through the broad streets of Urumqi, the capital city of the far-flung and sparsely-populated Xinjiang Uygur Autonomous Region, a mixture of onrushing modernity and lingering Islamic exoticism is everywhere to be felt. A gleaming new airport terminal and towering apartment complexes are proof of the benefits that have trickled down to the region from years of torrid economic growth. For centuries, the city was a prominent fulcrum on the Silk Road, an ancient trade route linking China and the Western world. Today, it is reclaiming its place as a boomtown at the heart of Eurasia.
While coastal China owes its prosperity to a roaring export machine, Xinjiang's economic miracle is due more to oil. Drilling derricks punctuate every kilometer of its vast desert and snow-capped mountains for rapid extraction of the oil resources that account for around 30 percent of the country's total onshore reserves. Moreover, the buoyant petroleum economy has made it a magnet for numerous investors from home and abroad.
Yet as Xinjiang steps onto the world economic stage, one concern looms above all others-it simply cannot keep its economy afloat on an endless supply of oil resources. The sweeping financial crisis has provided a pyrotechnic demonstration of how vulnerable a resource-dependent economy can be. As the deep downturn sent global oil demand plunging, the crude oil output of the region dropped 10 percent year on year in the first quarter, according to data from the Xinjiang Uygur Autonomous Region Development and Reform Commission. The energy crimp is draining life from the growth engine, though the more insular economy has largely held up.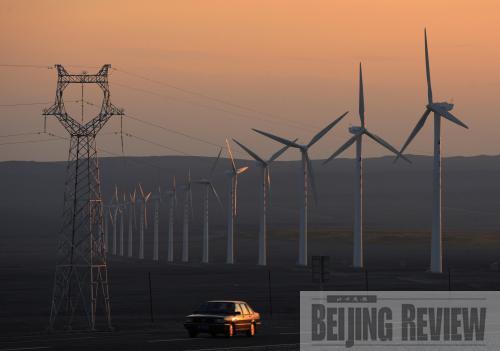 RIDING THE WIND: The rich wind resources of Xinjiang are adding fuel to the country's push into clean and renewable energies (JIANG XIAOYING)
A glimmer of hope comes from the non-oil sectors that are cushioning the fall. In the first quarter, the added value generated by non-oil enterprises above designated size (annual sales revenue of 5 million yuan or $732,000) soared 10 percent over one year earlier, in defiance of the entrenched gloom.