Education is highly valued in Chinese culture and making the country's universities world-class institutions has been the dream of Chinese educators. One strategy, proposed by members of the Chinese People's Political Consultative Conference (CPPCC), the country's top political advisory body, during the organization's March meeting, is to improve the competitiveness of Chinese universities by giving them autonomy.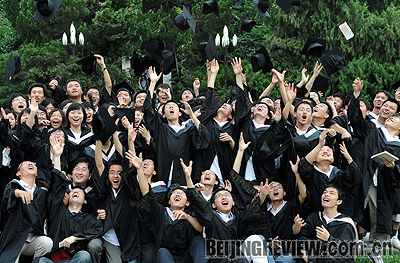 NEW GRADUATES: Nanjing University's Class of 2008 celebrates after the graduation ceremony conferring their bachelor's degrees on June 20, 2008 (SUN CAN) 

China's 1999 Higher Education Law stipulated that universities were independent legal entities under democratic management, said Shao Hong, Vice Chairman of the Central Committee of the Jiu San Society, one of the major non-ruling parties in China. Shao is also deputy director of the Committee for Handling Proposals at the CPPCC National Committee. Shao said the recent trend to make universities quasi-governmental organizations goes against the Higher Education Law and stopping the trend is a pressing issue in higher-education reform.

Zhang Ze, a CPPCC member and Vice President of the Beijing University of Technology, said that designating government officials to manage universities would ruin the institutions. Zhang said universities should be managed by educators rather than government bureaucrats.

When talking about the Program for Medium-and Long-Term Educational Reform and Development currently being drafted, Premier Wen Jiabao in January said that educational guidelines, the system, distribution and investment were government affairs, and should be controlled by the government. However, management of individual universities should be left to the schools and their presidents, he said, noting that different types of institutions should have different leadership systems and operational models. The schools' autonomy, then, should be respected and the business of education should be put in the hands of people who understand education, he said.

Wen's position came in part from an August 2007 visit with Qian Xuesen, the "father of the rocket" in China. Qian told Wen that none of the Chinese universities was oriented toward producing creative science and technology inventors. A lack of innovation and outstanding creative talent is hampering China's development, Qian said.

Later, Wen met university presidents to find a solution, which inspired the Program for Medium- and Long-Term Educational Reform and Development. Drafting the program has been listed as a priority of the current government.

Insufficient autonomy

Although Chinese universities have been enjoying greater and greater independence, they still do not have enough freedom to meet their own development needs, said Guo Hui, a scholar in the Education Science Institute at Huazhong University of Science and Technology in Wuhan City, central China's Hubei Province.

Lin Jianhua, Vice President of Peking University, said current law gives considerable autonomy to Chinese universities, but their rights have been vaguely defined. Educational resource allocation is seldom defined in legal terms, Lin said, and is subject to strong administrative interference, which makes it difficult for universities to exercise sovereign decision-making powers.

In February, the People's Daily published a letter from Zhang Liangtian, a professor in the College of Liberal Arts at Hunan Normal University. In his letter, Zhang used specific examples to illustrate the problems that Chinese universities now have. A university in Hunan Province, for instance, primarily offers two modules of classes-minor courses and major courses-whose proportions of class hours are about 4.5 to 5.5. Many faculty members requested that the provost raise the weight of major courses while reducing the class hours spent on political theory and English. Although university officials agreed with the teachers' suggestions, they said the university did not have the authority to change prescribed course loads because the Ministry of Education mandated the class hours for minor courses.

The government has increased control over universities through a variety of measures, said Shao. For instance, the government can get involved in university affairs by making recruitment plans, setting up teaching and research projects, authorizing degree-granting power, and reviewing and evaluating key subjects, key laboratories and bases along with a variety of other projects.

As university presidents are given administrative ranks equal to that of government departments, more and more government officials are holding top positions at universities. The resources of universities, then, tend to be allocated by administrative power rather than academic strength.

In 2000, the State Council approved more than 10 institutions like Peking and Tsinghua universities to become vice minister level organizations, which meant their presidents held the same administrative ranks as vice ministers. As of 2007, 43 universities had been placed in that rank.

Giving a university president an official rank to show respect for education does not help education, said Zhang. According to Zhang, respect should be given to professors, talents and knowledge rather than to officials.

Insiders believe that increased government control over universities has reduced the power of faculties and academics along with the drive for innovation in teaching, research and management. Those people dedicated to improving the quality of education and producing creative talent have been marginalized, they say.

Yang Dongping, Director of the Higher Education Research Institute at the Beijing Institute of Technology, said the key to innovation in the educational system lies in an academic-oriented approach that lets scholars manage universities democratically and gives real academic power to professors.