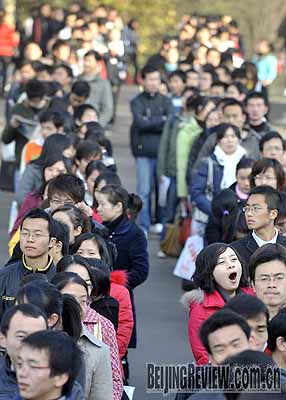 HARD TO FIND: A job fair in Wuhan, central Hubei Province on December 6, 2008 attracts tens of thousands of university graduates as 2009 shows signs of being a chilly year for China's employment market (ZHOU CHAO)

Unemployment fears are rising across China amid the worsening global financial crisis, according to a recent report. The Society Blue Paper, released by the Chinese Academy of Social Sciences (CASS) in December, listed job-hunting and unemployment as the fourth highest worries for respondents. In total, 26 percent listed them as problems, right after inflation, unaffordable medical care and the widening income gap.

The blue paper reported an unemployment rate of 9.4 percent for the economically active urban population, based on a nationwide survey of over 2,000 people who were either employed or actively seeking work.

Of the economically active respondents interviewed, 90.6 percent were employed while the remaining 9.4 percent were unemployed but still willing to work. About 85 percent of the unemployed respondents were aged between 19 and 49 and nearly 30 percent became jobless less than one year ago, while half had been out of a job for over three years. According to the report, the unemployment rate in medium-sized and large cities is 10.1 percent, compared with 8.7 percent in small cities and towns.

Slowdown woes

At a press conference in October 2008, China's Ministry of Human Resources and Social Security (MHRSS) released unemployment statistics from the end of September, showing the country's registered urban unemployment rate was 4 percent, about the same level as at the end of 2007, with the registered jobless urban population totaling 8.3 million. These unemployment statistics did not include migrant workers in cities who come from rural areas or the jobless in urban areas who fail to register their unemployed status at government agencies.

Around 670,000 small firms have closed this year as a result of the global financial crisis, adding to employment pressures, State Council advisor Chen Quansheng said at a forum in Beijing on December 19. About 6.7 million jobs vanished, many in the export hub of south Guangdong Province, pushing unemployment well above the official figure of 8.3 million, he added.

According to another survey by MHRSS, 4.85 million jobless migrant workers had returned to their hometowns by the end of November, and nationwide more than 10 million migrants are currently out of work.

In a 2006 survey of life pressures among the urban population, conducted by CASS, about 30 percent of respondents identified with "the worry of family member about unemployment or unstable employment." A similar survey in 2008 asked the same question and recorded a rise in those worried to 38.4 percent.