1. U.S. Financial Crisis Goes Global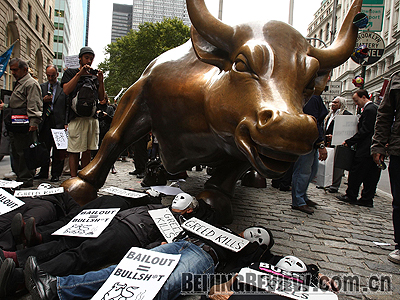 The photo shows people lying below the iconic Wall Street bull to protest a government bailout of financial firms on September 25 in New York City. Subprime mortgage crisis in 2007 undermined mortgage-backed securities, causing major banks and financial firms to fail. The crisis soon spread to affect almost every country.
2. Russia-Georgia Military Conflict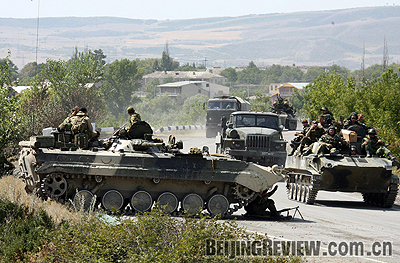 Russian troops start to withdraw from the South Ossetian capital of Tskhinvali on August 18, 10 days after Russia and Georgia went to war over the Georgian breakaway province. On August 7, Georgia launched a military attack against South Ossetia, whose citizens are mostly Russian, to which Russia responded by dispatching troops the next day. Although both sides had signed a ceasefire by August 16, Russia later recognized South Ossetia and another breakaway province Abkhazia as independent states.
3. Barack Obama Wins U.S. Presidential Election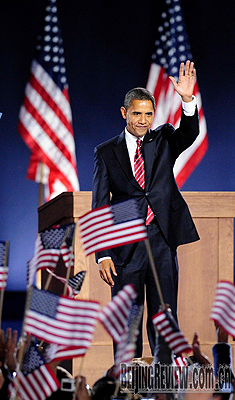 Democratic candidate Barack Obama declares victory in the U.S. presidential election in Chicago, Illinois, on November 4. Obama made history as the first African-American elected U.S. president.
4. Gunmen Terrorize Mumbai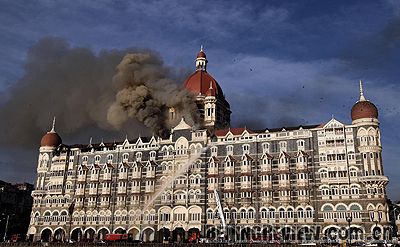 Indian firefighters try to put out a fire at the historic Taj Mahal Hotel in Mumbai on November 27. The day before, armed militants launched a series of coordinated terror attacks in the Indian financial center that lasted 59 hours, killing at least 170 and wounding more than 230 more.
5. Kosovo Declares Independence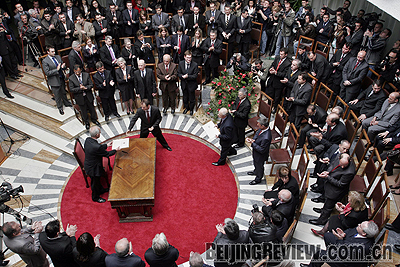 Kosovo Parliament members participate in the constitution signing ceremony in Pristina on April 7. Kosovo declared independence from Serbia on February 17, drawing support from some countries and objections from others.
6. Medvedev-Putin Mode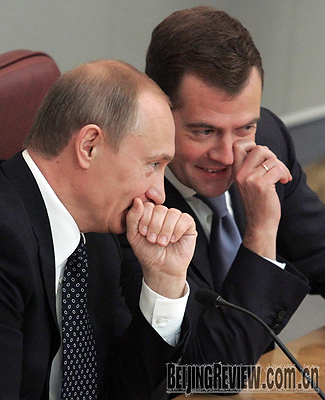 Russian President Dmitry Medvedev speaks with Prime Minister Vladimir Putin at the State Duma in Moscow on May 8, one day after Medvedev's inauguration at the Kremlin. With Putin retaining a key role after leaving the presidency, Russia opened an unprecedented Medvedev-Putin era of hardline policy.
7. Somali Pirates Become Rampant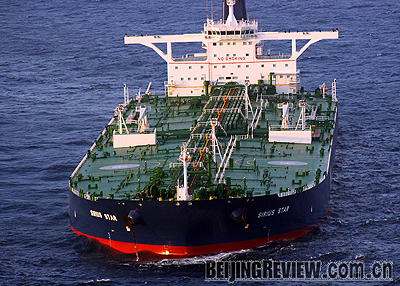 The Saudi-owned crude oil carrier Sirius Star sits at anchor on November 19 off the coast of Somalia. The oil tanker, which was carrying 2 million barrels worth over $100 million, was hijacked by Somali pirates four days earlier off the coast of Kenya for a possible ransom. Rampant Somali pirates enraged the world in 2008, prompting the UN Security Council to adopt four resolutions. A December 17 resolution authorized countries to "undertake all necessary measures in Somalia, including in its airspace."
8. Highs and Lows for the Six-Party Talks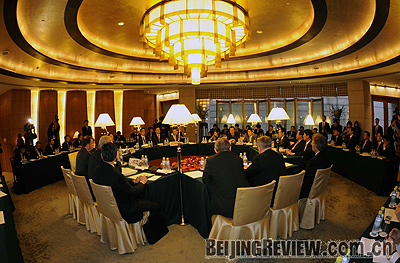 Chiefs of delegations to the six-party talks meet in Beijing on December 8. It was an uneven year for the six-party framework, which aims to dismantle North Korea's nuclear weapons program. On June 27, North Korea blew up the cooling tower at its main nuclear reactor complex in Yongbyon. In exchange, the United States removed North Korea from its list of states that sponsor terrorism on October 11. But by the end of the year, the parties have not reached a practical agreement on verification of North Korea's nuclear inventory.
9. Political Crisis in Thailand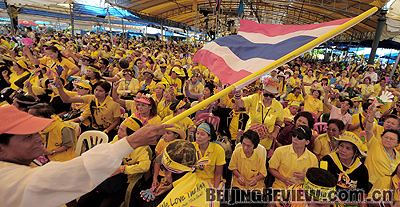 Anti-government protesters occupy Bangkok's Government House on November 23. Conflict between the government and an opposition party consumed Thailand in 2008. Protests and clashes occasionally turned violent as protesters seized the prime minister's office and later Suvarnabhumi International Airport.
10. Ireland Rejects the Lisbon Treaty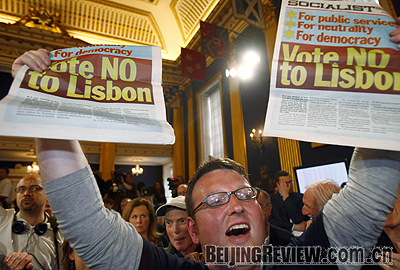 An Irish man holding up newspapers encouraging people to vote against the Lisbon Treaty celebrates after a referendum's result was released on June 12 in Dublin. Irish voters rejected the treaty, which aims to make the European Union (EU) more efficient and democratic, over concerns that the EU takes powers away from individual countries. Without Ireland's ratification, the treaty cannot take effect.