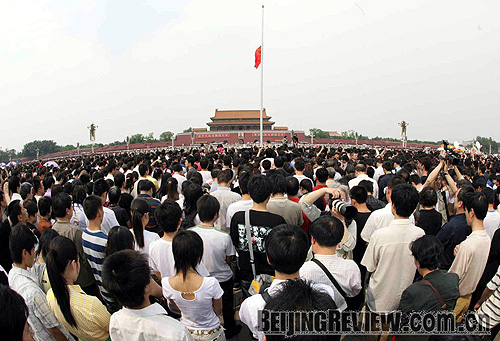 NATIONAL MOURNING: People observe a three-minute silence in Beijing's Tiananmen Square in memory of the Sichuan earthquake dead
The flag is flying at half mast on Tiananmen Square, the ultimate indication of a nation's pain. At 2:28 p.m. on May 19, exactly one week after the Sichuan earthquake ripped open the ground and shattered the peaceful lives of millions, the people of China stopped what they were doing for three minutes of silence. It was eerie. China is never quiet, but now people were observing this time for the countless thousands of victims who had lost their lives in its latest natural disaster. When the three minutes were up, hooters and sirens blared simultaneously and the country shuffled back to life.
During times of crisis the human spirit seeks instinctively to sympathize, comfort and support those who are on the sharp end of the spear. Having seen war and natural disasters up close and personal on the African continent, I have always found that for a time, compassion during crisis makes irrelevant all the differences people may have.
In a country that is no stranger to the calamities of nature, this latest incident carried with it unparalleled shock, horror and despair. Perhaps it's the sheer number of people killed, wounded and displaced, or the fact that it came during the euphoria of the Olympic year. For me the pain comes from the reality that so many of the dead and traumatized are children.
Two images remain. One is of rescue workers clearing away rubble to find a group of children curled up in the fetal position, seemingly having their after-lunch nap. They had died like that. Young lives snuffed out in an instant.
The other is of a helmeted Chinese Premier Wen Jiabao, sticking his head into a crack in a mass of collapsed concrete and shouting to trapped children, "I am Grandpa Wen Jiabao. We have come to rescue you."
Premier Wen has evolved to become a man for all seasons. His is the face most often seen when disasters strike China. During the first few hours and days after the earthquake he was at ground zero, encouraging, consoling and listening. People respond to him. In a time of crisis, what we all cling to is hope. I was watching a TV broadcast with a group of friends when the screen flickered to show the premier holding two rescued children and speaking to a distraught mother. There was not a dry eye in the room. Beyond the power, he has the human touch and he brings hope.
While I watched events unfold, I was also reminded that in the many years I have lived in China, this is the first time I have seen sustained live, on-the-spot coverage of a disaster incident. The country has been known in the past for delaying reporting on any form of disaster and play down the figures of dead and injured. This time it's different and the refreshing transparency has allowed all Chinese to live through the quake with the victims, something they have not been privy to in past incidents. The openness has helped with the awareness of what is needed and serves to rally the country to donate aid. It seems that all offices, schools and institutions have made collections for cash and other material that could make the lives of quake sufferers more comfortable. People across the country also queued to offer the blood in their veins as blood banks reached capacity for the first time in years. Online donation fervor is beyond measure. And watching media reports people can now see how their donations will be used. It's a way in, and instead of just sitting in Beijing or Shanghai, you can be there in spirit. This type of media coverage also sets a precedent for future open reporting, which is a positive aspect that emerges from all the chaos.
The monumental logistics of rescue has again brought the People's Liberation Army into focus. In China's time of need they are invaluable. As an army it is probably unlike other armies around the world in that it serves a dual role, to both defend the nation in times of conflict and also act as a search and recovery unit in times of natural disaster.
Reaction was swift and committed. This time we could see it all live. They dug, searched, rescued and cried on camera.
It's all in stark contrast to neighboring Myanmar, also reeling under its own tragic floods, where aid lies perishing as the government debates about who is better suited to deliver the supplies to dying victims.
I watched as the Olympic torch relay, so long the focus of media headlines, became non-news. It was suspended for three days on May 19-21. China has more important issues on its mind. It needs to mourn, and in keeping with the magnitude of the disaster, this is the first time the country has held a period of mourning other than for the death of a national leader.
Experts have upgraded the earthquake intensity to level 8.0 on the Richter scale. Eight, usually a lucky number for Chinese showed its darker side on May 12.
It's impossible to be detached from this tragedy as a foreigner living in China. We all offer our support in whatever way and pray for the souls of the departed. May they rest in peace.
The author is a South African working in Beijing