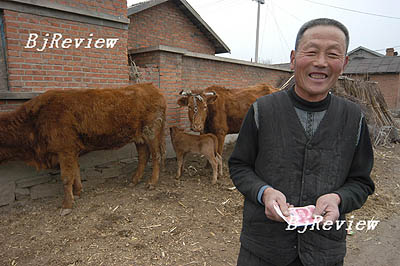 Self-sufficient in Grain
Chinese Premier Wen Jiabao said during a recent spring planting inspection in northern Hebei Province that the Chinese people were fully capable of feeding themselves.
Wen said the country's self-reliance in feeding its 1.3 billion people with its own grain production was a great contribution to the world.
"China has abundant grain reserves standing at 150 million to 200 million tonnes," said Wen.
The Central Government vowed this year to spend 562.5 billion yuan ($80.4 billion) to support farms and the rural sector, 130.7 billion yuan ($18.7 billion) more than last year.
The State Council decided last month to spend another 25.25 billion yuan ($3.6 billion) in addition to this year's rural budget, mainly to subsidize farmers' purchases of seed, diesel, fertilizers and other production materials.
Power Sector Trend
China's electricity regulator has advised major power companies to merge with or acquire coal producers and transporters to help stabilize costs and supplies.
The government froze electricity prices to prevent rising coal costs from flowing through to end users, but soaring coal prices forced many power plants to run at a loss.
Zou Yiqiao, head of the Price and Financial Supervision Department of the State Electricity Regulatory Commission, was quoted as saying by Shanghai Securities News recently that the government would allow power costs to reflect coal prices when the timing was appropriate. A more rational relationship between coal and electricity prices would help ensure sustainable industry development and adequate power supply, which is critical for the economy and living standards.
Booming Car Sales
Global automakers reported soaring first-quarter sales in China. The sales growth of almost all the big global names far outpaced the industry average in China; passenger car sales rose 20.4 percent to 1.85 million in the first three months and 24 percent in March, the biggest monthly rise since August.
In contrast, their sales experienced double-digit declines in the United States last month as demand fell and consumers held back amid concerns about gas prices, the sub-prime mortgage crisis and tightening credit.
Dampened Confidence
China's consumer confidence index dropped in the first quarter, affected by inflationary pressure, said the National Bureau of Statistics.
The index fell 1.7 percentage points from the previous quarter to 94.8, said the bureau. Consumer confidence hit an 18-month low of 94.3 in February following reports that the consumer price index had surged to a 12-year high of 8.7 percent, with food prices rising by 23.3 percent.
Zhuang Jian, Senior Economist at Asian Development Bank Resident Mission in China was quoted by Xinhua as saying that it would have a negative impact on future consumption as consumers might cut purchases.
Green Light
Chinese commercial banks have been allowed to make investment for their wealth management clients in U.S. stock markets and public funds selected by the U.S. regulator.
The breakthrough was made recently after regulators from China and the United States reached an agreement on the supervision of commercial bank's wealth management business, said the China Banking Regulatory Commission (CBRC) on April 7.
The United States was the latest country in addition to a range of overseas investment open to the Chinese mainland wealth management business, which included Hong Kong, Britain, Singapore and Japan.