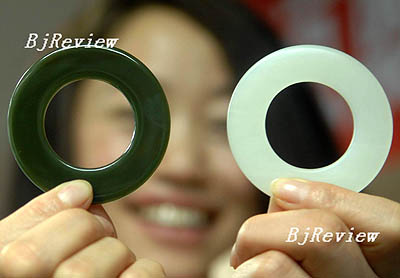 "Why are the Chinese putting jade onto the Olympic medals?" I asked my colleague Wu Nanlan as we sat waiting for our boss to come and conduct our weekly planning meeting.
Raising her elegant eyebrows she gaped at me in surprise. "Haven't you ever heard the Chinese saying, 'Gold is valuable, but jade is priceless?'" she replied. "China is the place where jade is the most respected. Even today jade (yu in Chinese) is known as the royal gem. The character for yu is only one stroke different for the Chinese character wang, or king. And originally the small stroke at the bottom, differentiating jade from king, was simply a pronunciation mark as opposed to a semantic difference."
"Sure, it's beautiful, but I don't wear it," interrupted Wang Weiwei. "It breaks; I prefer silver, and of course, diamonds." She stretched out her slender hand, exposing a beautiful diamond ring.
"Maybe because you are engaged to that rich foreign boyfriend, your traditional way of thinking has altered," retorted Wu Nanlan. "But jade is actually the toughest natural stone in the world, although it is not the hardest. And the Chinese were carving sophisticated instruments using jade long before they developed writing or cultivated silk."
"Yeah, many ancient stories and myths exist in our history concerning jade," said Dickie Wang. "But I like it because the stone is cool and soft, like a woman's skin. It's very sensual." He sighed dramatically, adding softly, "My wife's skin is like jade."
"My mother told me that she wears jade for her health," Wang Weiwei said, looking round the table at us. "She said that jade imparts good health: If worn a long time it increases vitality and promotes long life, and controls her hypertension."
"Well," I answered, "The English word 'jade' derives from the Spanish phrase 'piedra de ijada'--loincloth. Ancient Meso-Americans, just like the Chinese, recognized long ago that wearing jade around the lower torso helped cure kidney troubles. The other word for jade 'nephrite'--comes from the Greek word 'nephros'--kidney. So maybe your mom's correct."
Dickie Wang nodded. "Jade is also supposed to have supernatural powers. Touching jade and wearing made a person safe, blessed with the power to resist evil influences and avoid evil ghosts and spirits. Ancient Taoists even believed that jade was edible and could keep one immortal. In fact, during earlier dynasties emperors and royalty were buried in complete suits of jade that looked like those suits of armor medieval European knights wore. Moreover, all their orifices were plugged up with jade to protect their qi, or body energy."
"Pretty wild funeral clothes," quipped Wang Weiwei, grinning.
"My family is from Yunnan (in southwest China); we are jade traders, so I respect this stone very much," began Wu Nanlan. "But all Chinese revere jade, in the past and at present. It symbolizes imperial power as well as beauty and longevity. A famous piece of jade is part of Chinese legend: Long ago, a courageous common man named Bian He found a marvelous piece of jade, a priceless treasure. But it was hidden under a layer of worthless stones in the mountain. He was afraid that he might ruin it; he dared not remove it. But this loyal citizen dedicated the jade to the King of the State of Chu, naming it after him. The king could not discern the wondrous stone; he was furious with Bian for using his imperial name in vain. He ordered Bian's legs cut off. Poor Bian cried for three days and three nights! Later a new king took power and the jade was cut and delivered to him. This king was awed by the beauty and delicacy of the stone. It became a national treasure by the name of 'heshibi.'"
"That's fact, not legend," Wang Weiwei contended. "That stone is part of Chinese history. It was so precious that it became a source of conflict for about 500 years, with kings fighting over it during the Eastern Zhou Dynasty (770 B.C.-221 B.C.)."
"Now, with the upcoming Olympics, jade will once again become famous because athletes will compete for medals made with gold and precious Qinghai jade," I remarked mildly.
"Very apropos," Wu Nanlan asserted. "In China jade is the standard by which great men, governments and beautiful women are judged. The stone is lovely, tough and unique; it truly reflects the Olympic spirit."
"Indeed," said Dickie Wang. "Understanding jade's symbolism helps foreigners understand China's history and values. We have a proverb: Turn weapons into peace with gifts of jade. The Olympic jade represents China's peaceful intentions toward the entire world. That's very important in this nuclear age, don't you think?"